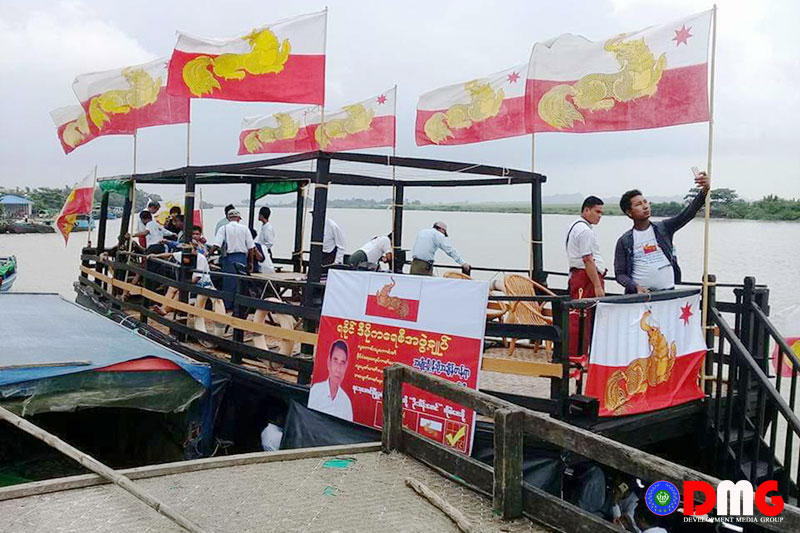 Min Tun | DMG
11 September, Sittwe 
Arakan State-based political parties are calling on the government to restore full internet access during the election campaign period as the early days of canvassing have been marked by technological and public health-related hurdles. 
The November general election's official campaign period began on September 8, but Arakan political parties are facing difficulties reaching voters due to stay-at-home orders imposed in all of Arakan State's townships amid an outbreak of COVID-19.  
The Ministry of Health and Sports on September 7 released an order that suspended door-to-door campaigning and rallies in both open areas and buildings in any villages, wards, townships, and states or regions where the government has imposed stay-at-home orders. 
"An instruction said election campaigning cannot be held at townships under stay-at-home orders. According to the stay-at-home order, mass gatherings and visiting door-to-door are not allowed. So, political parties face big challenges to do election campaigns," said U Aung Mya Kyaw, secretary (1) of Arakan National Party. 
Meanwhile, seven Arakan State townships and Paletwa Township in Chin State are only being given 2G mobile internet access, hampering political parties' efforts to campaign via social media. 
The theoretical option to move campaigning activities online amid the added COVID-19 restrictions is putting political parties and their candidates at a disadvantage in the 2G townships, said U Aung Mya Kyaw. 
"We cannot do election campaigns through any social media because the [4G] internet ban is imposed in some townships. So, we want to demand to lift all internet restrictions during the election campaign," he said. 
"To do election campaigns online, it is necessary to be provided 4G internet access," said Dr. San Shwe, chair of the Union Solidarity and Development Party in Arakan State. 
U Kyaw Zaw Oo, a spokesperson for the Arakan Front Party, said the provision of full internet access should extend beyond the election's 60-day campaign period. 
"Full internet access should be provided not only for election campaigns but also for daily lives because all people elsewhere in the country are provided the 4G connection," he said, while adding that political parties would have to comply with the added restrictions imposed by COVID-19.
"We can post party signs and use online media to conduct campaign activities in the towns under stay-at-home orders. So, we will have to do according to the instructions," he said. 
The general election is slated for November 8.