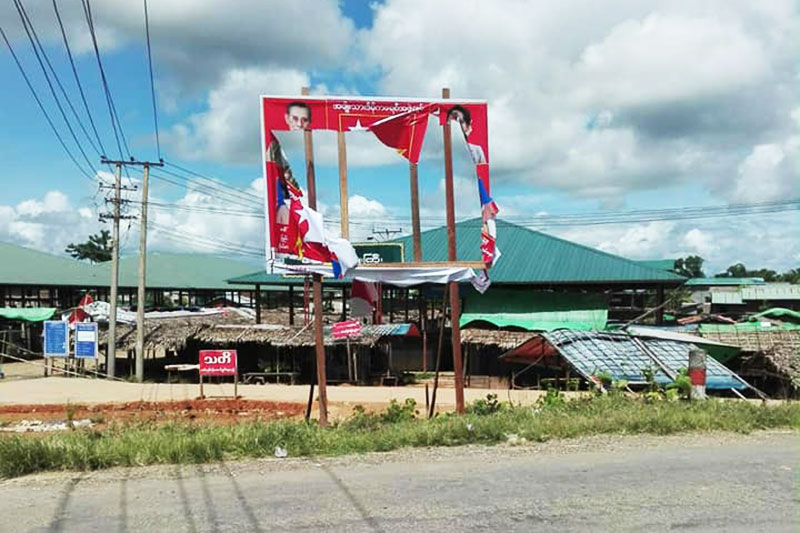 Min Tun | DMG
12 September, Sittwe

A National League for Democracy (NLD) election campaign signboard near a local market in Maei town, Taungup Township, was destroyed over the weekend.

The signboard featured images of party leader Daw Aung San Suu Kyi, patron U Tin Oo, and the NLD's candidates for the Upper House, Lower House, and Arakan State legislature in the Maei constituency where it was erected.

Daw Ni Ni May Myint, an NLD candidate who will contest the upcoming general election for the Lower House seat representing Taungup Township, said the damage to the signboard was a violation of law.

"We erected the election campaign signboard in accordance with the electoral law. This was a breach of the law," she said. "We are really disappointed about the NLD's campaign signboard being destroyed. We will re-erect the campaign signboard."

The NLD candidate added that she did not know who destroyed the campaign signboard and had filed a case with police in connection with the matter.

Candidates from the ruling NLD will contest all three seats in the Taungup constituency where the vandalised sign was posted. Candidates from the Arakan National Party, a major NLD rival in Arakan State, and the Union Solidarity and Development Party will also vie for all seats in Taungup.

The general election is slated for November 8.