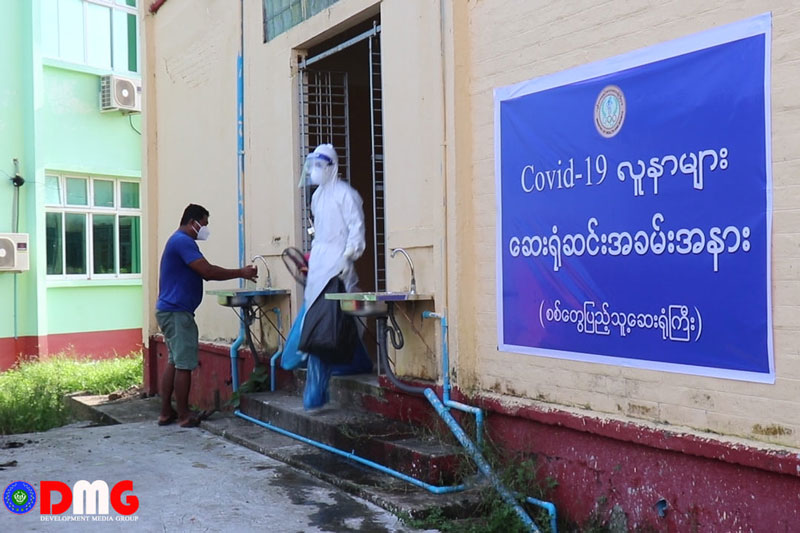 Myo Thiri KyawDMG
16 October 2020, Sittwe

Sittwe General Hospital in the Arakan State capital is facing a shortage of oxygen for patients as it has been increasingly called upon as a coronavirus treatment.

The hospital had sufficient oxygen reserves before the COVID-19 pandemic, but supply has become a concern following the increase in usage, healthcare workers in Sittwe said.

There are six coronavirus-positive patients being treated with oxygen at the Sittwe hospital's COVID-19 treatment ward, with two severe cases receiving oxygen in the intensive care unit. In the fever and surgical wards of the hospital, patients are receiving less oxygen than they normally would due to the supply shortage, according to Dr. Aung Naing Lin, a physician who is serving as a volunteer at Sittwe General Hospital.

"Previously, the patients with oxygen deficiencies were treated by giving oxygen. As the COVID-19 cases have increased, we have had more difficulties. We don't have enough oxygen and the hospital has only one machine that produces oxygen," he said.

Dr. Aung Naing Lin said the hospital needs more oxygen-producing machines and oxygen pipeline systems like at hospitals in other states and regions. He asked that responsible officials from the hospital, donors and the Ministry of Health and Sports help to address the issue.

"We have no idea when COVID-19 will come to an end," he noted. "Those who need oxygen must be treated with oxygen. We can't treat them with injections. A person can die in five or 10 minutes if there is no oxygen. Those who are providing treatment on the ground face problems if they encounter oxygen requirements."

However, the hospital's medical superintendent, Dr. Zaw Lwin, said reports that treatments are being provided using less oxygen are merely rumours.

Both COVID-19 patients and other patients are being given normal oxygen treatments if necessary, he said.

There were 88 patients receiving treatment for COVID-19 at Sittwe General Hospital on October 15, out of which three were in the intensive care unit and six others were considered severe cases. A total of 1,046 coronavirus patients had been discharged from the hospital following recovery and six had died as of October 15, according to a COVID-19 monitoring group.

Arakan State recorded 2,349 coronavirus patients through October 15, with 1,959 having been discharged from hospitals. Nine patients have died statewide, according to the Arakan State Public Health Department.