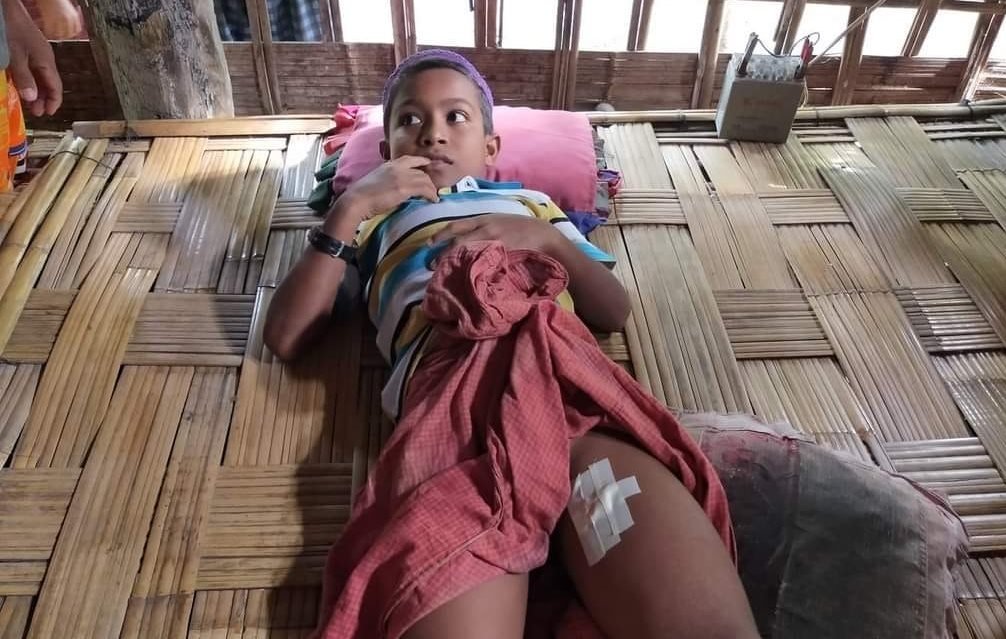 Hnin Nwe | DMG
25 October 2020, Sittwe 
An 11-year-old boy from Sanbalay (Muslim) village in Arakan State's Minbya Township was injured by a stray bullet allegedly fired by the Tatmadaw on Sunday, according to village officials. 
The child was sleeping at home when he was hit by a bullet after gunfire was heard from the direction of Thinchaing Hill, near Pharpyo village in Minbya Township, at about 3:30 a.m. on October 25, said U Shwe Maung, the village in-charge. 
"The child and his father were sleeping in the home and at that moment, small arms fire was shot at the village and hit the child," he told DMG. 
Identified as Maung Umobaryo, the victim sustained a gunshot wound to his left thigh and received medical treatment at a rural healthcare centre in Pyarchaung village, according to local residents. 
Tatmadaw troops are stationed on Thinchaing Hill, about 1 mile from Sanbalay village, according to locals. 
Residents of Sanbalay village were regularly subjected to such shootings, U Shwe Maung said. 
"The Tatmadaw fires almost every day without any hostilities with the Arakan Army. It is very worrying for our village if the bullets fired by the Tatmadaw fall into and outside of the village," he added. 
A Muslim man from Sanbalay village was reportedly killed and two others were injured in a shooting on April 22. 
DMG phoned Brig-Gen Zaw Min Tun and Brig-Gen Ye Yint Aung of the Tatmadaw True News Information seeking comment on the local villagers' accusations, but they could not be reached.
Clashes between government troops and the Arakan Army (AA) have been reported in recent days near Maylwan and Pharpyo (Chin) villages in Minbya Township. 
Meanwhile two children from Pyinshay (Muslim) village in Buthidaung Township were killed in clashes between the Tatmadaw and the Arakan Army on October 5.  
The United Nations' Country Task Force on Monitoring and Reporting (CTFMR) released a statement on October 14 calling for "a full, transparent, and expedited investigation of the incident and for anyone responsible for the use and for the killing of the children to be held accountable." 
The military is investigating the deaths of the two Muslim children in Pyinshay village in Buthidaung Township, Big-Gen Zaw Min Tun said at a press conference on October 24. 
According to the CTFMR's figures, more than 100 Myanmar children were killed or injured in conflict during the first three months of 2020, amounting to more than half of the total number in 2019, and significantly surpassing the child casualties total for 2018.