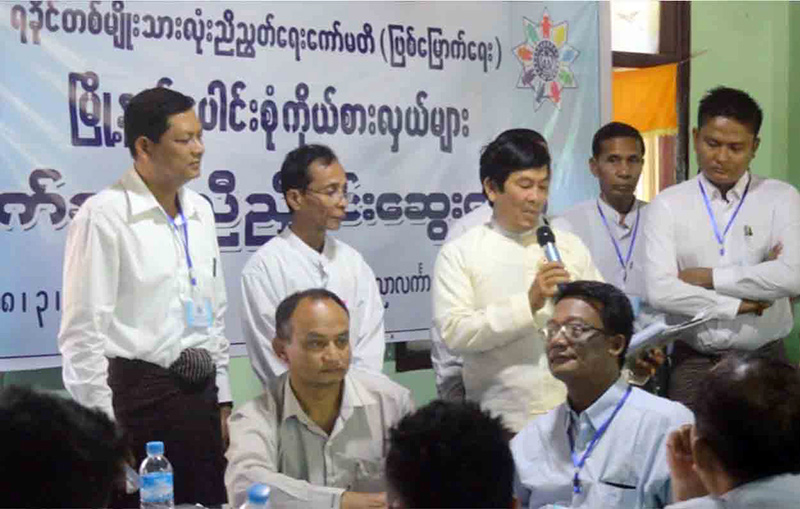 Khin Tharaphy Oo | DMG
2 November 2020, Sittwe 
The All Arakanese Solidarity Committee (AASC) has advised local businesspeople to brace themselves for a possible economic downturn in Arakan State in the post-election period. 
As Myanmar gears up for the November 8 general election, the AASC released a statement on November 2 suggesting that tensions may erupt between the Arakan State legislature and the state government, which will be formed early next year. The committee cited perceptions of the upcoming vote as undemocratic and illegitimate due to widespread poll cancellations in Arakan State, adding that discord could also be expected among the executive and legislative branches and the Arakanese people.  
Political and military tensions in the post-election period would potentially wreak havoc on the state's economy, the AASC statement warned. 
"We assume that there will be a large degree of political and military turmoil in the post-election period," said AASC spokesman U Khin Maung Gyi. "So if commodity flows are disrupted, this will put people in Arakan State into deep troubles. That's why we are asking the businessmen to work in groups, rather than individually, to find out how to handle the possible problems, and figure out what to do with their products."         
Even prior to this month's election, transportation woes have affected both individuals and industries, with travel restrictions due to the COVID-19 pandemic and ongoing conflict in the region making logistics particularly challenging.   
"Normally, commodities come from Mandalay, Pyay, Yangon and so on, to Arakan State. Currently, there are delays in commodity flows as vehicles are checked for security reasons. We are therefore asking businessmen, companies and wholesalers to solve this problem," said U Khin Maung Gyi. 
The AASC statement said businesspeople in major towns including the state capital Sittwe are bound to face logistical problems in producing and trading household goods, agricultural commodities including rice and fisheries products, both within and outside the state.