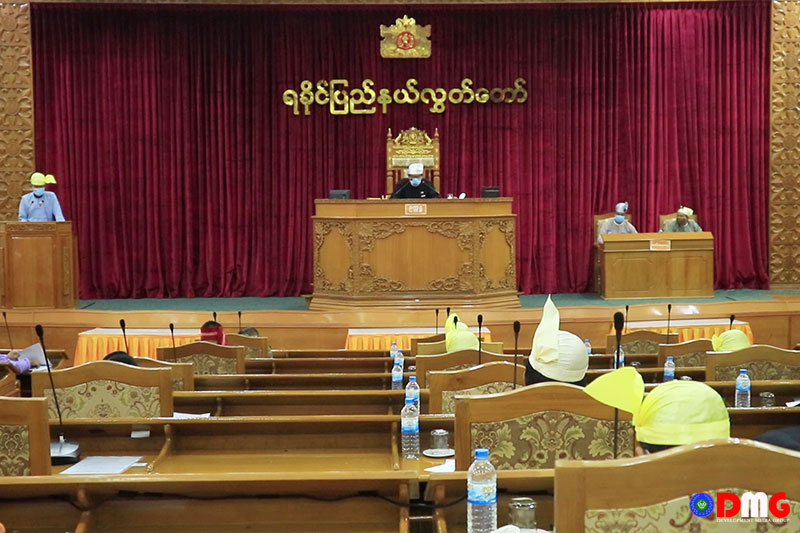 Khin Tharaphy Oo | DMG
10 November 2020, Sittwe 
Two women will be sworn in next year as the second and third female members of the Arakan State Parliament in the chamber's history, according to election tallies released by political parties competing in the state.   
There were no female MPs among the Class of 2015 lawmakers elected to the state parliament (hluttaw) in Myanmar's last general election, and just one in 2010, but this year Manaung and Taungup townships appear set to send one woman each to the legislature in Sittwe.  
Arakan National Party (ANP) candidates Daw Tin Yi and Daw Khin Myo Yin on Tuesday looked poised to claim victories in their races for the No. 2 constituencies of Manaung and Taungup townships respectively. 
The Union Solidarity and Development Party's Daw Than Sein served in the Arakan State Hluttaw as the chamber's first female member from 2011-2016. 
A women's affairs activist based in Arakan State, Daw Nyo Aye, said she hoped the new female MPs-elect would help bring more of the voices of women in conflict zones to the state assembly. 
"Now, we see women in the election. As we are women, we like to see women representatives coming up, and we heartily welcome them," Daw Nyo Aye said. 
"Women should get involved 100%. Each one of us should be supporting them. We also need the support of these women representatives. They can submit reports on the difficulties of women, their feelings and the issues of deaths," she added.  
Daw Khin Myo Yin said she would focus on standing up for those suffering due to armed conflict in Arakan State. 
"As for Taungup, it is free of military conflicts. However, the issues of arrests, illegal issues, human rights violations are still there. The Hluttaw representatives will stand firmly by the people," she said.   
The role of conflict in Arakan State voters' collective consciousness has changed markedly since the 2015 vote. Myanmar's last general election took place before fighting in Arakan State between the Tatmadaw and the Arakan Army broke out proper in late 2018.  
The conflict uprooted nearly 10,000 people in Arakan State in October of this year alone, leading up to the November 8 election. Alongside mass displacement (tallied at 236,229 statewide as of November 2), the conflict has brought a heavy-handed militarisation of daily life for many tens of thousands more. Hundreds of civilians have been injured or killed in the conflict.   
As the state's internal IDP count has soared over the past two years, much of northern Arakan State was already emptied of its Muslims population, with hundreds of thousands fleeing their homes for Bangladesh from 2016-2017. Those constituencies were deprived of the vote this year by the Union Election Commission, however, part of nine townships in Arakan State where elections were cancelled entirely. 
A total of 69 men and 10 women candidates, from political parties and as independents, contested for Arakan State Hluttaw seats this year.