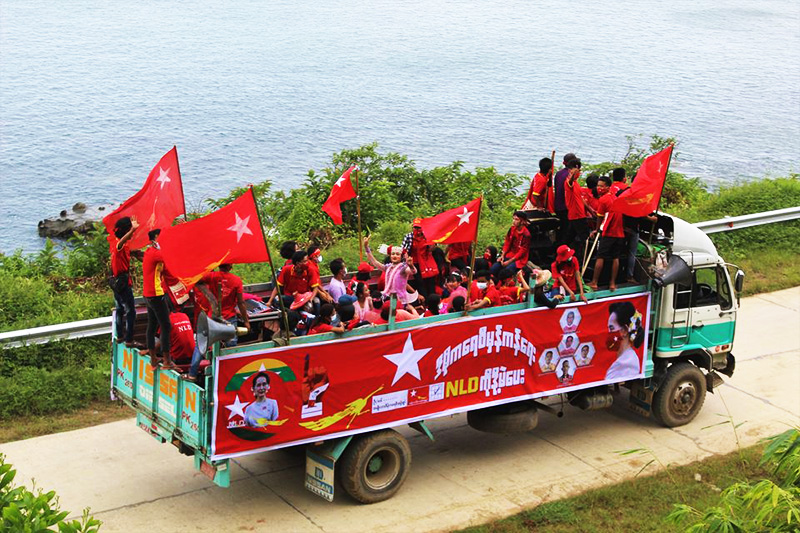 Min Tun | DMG
13 November 2020, Sittwe

Fresh off elections that look set to deliver a second term for the ruling National League for Democracy (NLD) government, the party has reached out to 48 of Myanmar's ethnic political parties, inviting cooperation to achieve what it says are shared goals, including the establishment of a federal union.
The NLD's 2020 election manifesto, released in September, said the party would prioritise addressing ethnic affairs and achieving internal peace, with the open letter sent to ethnic political parties on November 12 being an initial post-election follow-up to that pledge.
A lack of trust among ethnic groups and races is "the root cause of political problems happening in Myanmar," NLD spokesperson Dr. Myo Nyunt said. "Relating to the future union, if an agreement on the desires of ethnic people is reached through negotiation and coordination, the ethnic issue and termination of civil war will be successful. We believe this."
The open letter noted that while some political parties expressed satisfaction with the election results in the country's states, which are largely populated by ethnic minorities, there has also been discontent among some parties.
"The letter has not yet arrived to our party but we found it online," said Daw Aye Nu Sein, spokesperson for the Arakan National Party (ANP).
Among the 48 political parties that the letter was addressed to, the ANP was one of Myanmar's most successful this year, in an election dominated nationally by the Bamar-dominated NLD.
"They [NLD] just issued a letter. We cannot say anything about just the issuing of a letter when it comes to a task relating to the entire nation. However, we welcome it if they can implement it as mentioned in the letter," Daw Aye Nu Sein said.
The letter also had not yet reached the Arakan Front Party (AFP) but its vice chairman, U Kyaw Zaw Oo, said his party too was in a wait-and-see mindset.
"If they really want the interests of the ethnic people and if they really want to build a genuine federal union, just talking is not enough. They must prove through deeds," he said. "The activities over the past five years showed us to wait and see with suspicion. That's why what they say now will be a metric to watch. To cooperate, we will have to discuss with party leaders."
The country's largest ethnic political parties as well as lesser-known parties including the Arakan State-based Mro National Democracy Party, Khami National Development Party, and Daingnet National Development Party were among the 48 recipients of the NLD letter.