NLD will exist 'as long as there are people,' party says of junta move to dissolve it
The National League for Democracy (NLD), which is among dozens of political parties disbanded by the military regime over their failure to meet a deadline to re-register, said in a statement on March 29 that "as long as there are people, the party will exist."
By Admin 29 Mar 2023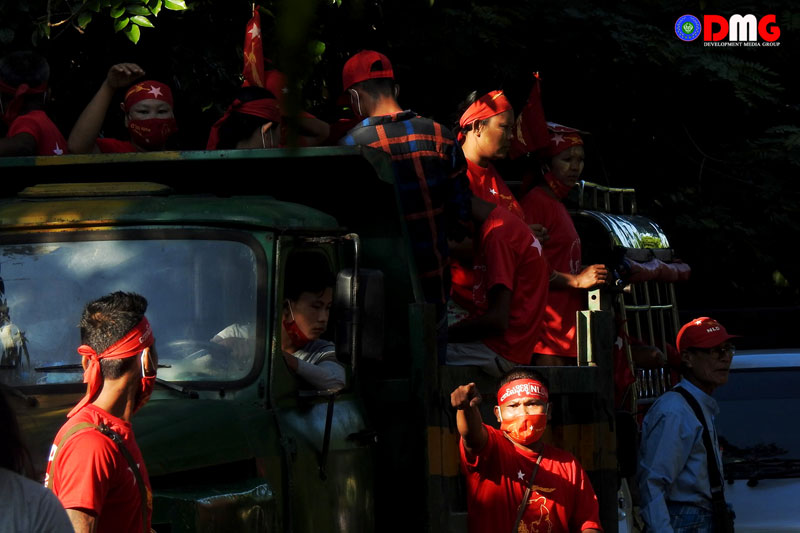 DMG Newsroom
29 March 2023, Sittwe
The National League for Democracy (NLD), which is among dozens of political parties disbanded by the military regime over their failure to meet a deadline to re-register, said in a statement on March 29 that "as long as there are people, the party will exist."
The NLD, which emerged out of Myanmar's 1988 pro-democracy uprising and has looked to the now-imprisoned Aung San Suu Kyi as its figurehead for more than three decades, has been hollowed out by arrests and killings of its leadership and supporters since the military seized power in February 2021.
"The NLD will try its best to meet the expectations of the people, and recognise and respect the political parties that stand together with the people and do not register with the UEC [Union Election Commission] to contest the junta-sponsored election," the NLD statement reads.
According to a new law promulgated by Myanmar's military regime, political parties must apply for registration within 60 days of the law going into effect on January 26 if they want to continue to exist as a legal political party. The law states that if registration is not filed within 60 days, the political party is automatically dissolved.
The junta-controlled Union Election Commission announced on March 28 that it had dissolved 40 parties in total, on the grounds that they had failed to register for an upcoming general election, the date of which has yet to be determined.
U Than Soe Naing, a political analyst, said that the dissolution of the NLD was not surprising, given its electoral success and status as the most popular party in Myanmar.
"The removal of the NLD from the political stage is a requirement of the military dictatorship. The NLD cannot be removed from the hearts of people. Someday, the NLD will return to the stage with a change," he said.
Among the 40 political parties that were dissolved by the military regime this week are the Arakan State-based Arakan League for Democracy (ALD), Kaman National Development Party and Daingnet National Development Party.