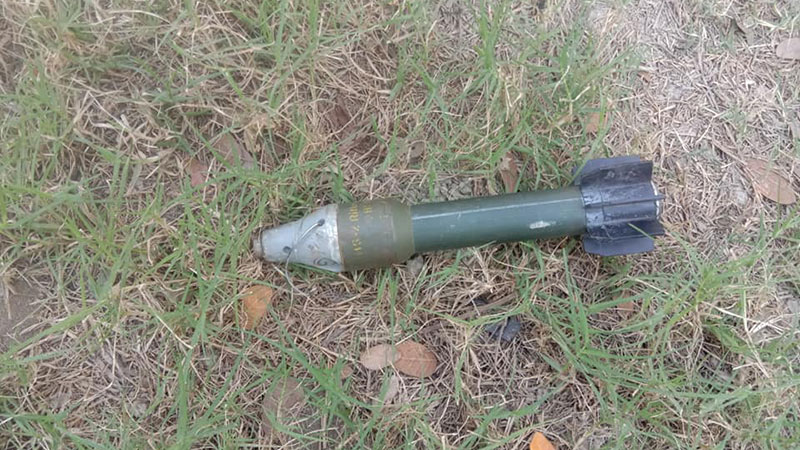 Hnin Nwe | DMG
21 November 2020, Sittwe
Internally displaced people (IDPs) in Arakan State are concerned about the dangers of landmines and other unexploded ordnance from fighting in the region as some have begun to return to their homes in recent days.
Most of the returning IDPs are involved in farming, and have ventured back home with the intention of harvesting paddy as the reaping season has coincided with a period of relative calm in Arakan State.
"Workers could not be hired for fear of artillery shells being leftover in the paddy fields. Even if we harvest the paddy with harvesters, we dare not harvest the paddy with harvesters because we are afraid of artillery shelling," U Maung Tun Sein, who returned home after sheltering at Kyet Yoe Set IDP Camp in Rathedaung Township, told DMG.
Villagers from Shwelaungtin in Rathedaung Township are also worried about the risks of artillery shells and landmines, but some have returned home because they have invested too much in their crops to let fields go unharvested, according to Ko Saw Myint Tun, a resident of Shwelaungtin village.
"We are also worried about the risk of landmines. ... I don't want to lose money because I have to cultivate the paddy despite having no money. So I came to harvest the paddy despite many challenges," he said.
Some 4,000 IDPs sheltering at camps in Rathedaung and Kyaukphyu townships have reportedly returned to their homes this month to harvest paddy as fighting between the military and the Arakan Army (AA) has eased. 
However, landmines have left three civilians dead and nine injured in Arakan State in November, lending credence to fears over the lingering, sometimes explosive legacy of the conflict.
The government should conduct landmine risk education and demining operations in Arakan State, said Daw Khin Saw Wai, the Lower House MP for Rathedaung Township.
"Landmines are also a terrible weapon and the government should conduct landmine awareness in Arakan State. People don't know where the mines are planted. It is possible that there are mines at the scenes of fighting. So the government should conduct mine clearance in Arakan State," the lawmaker added.
Fighting in Arakan State appears to have eased after the Arakan Army issued a statement on November 12 urging the government and Tatmadaw to hold by-elections before the end of the year in townships where the general election was not held on November 8. 
Still, the recent home returns of IDPs represent a relative trickle: According to the Rakhine Ethnic Congress, the number of IDPs in Arakan State had surpassed 236,000 as of November 2.