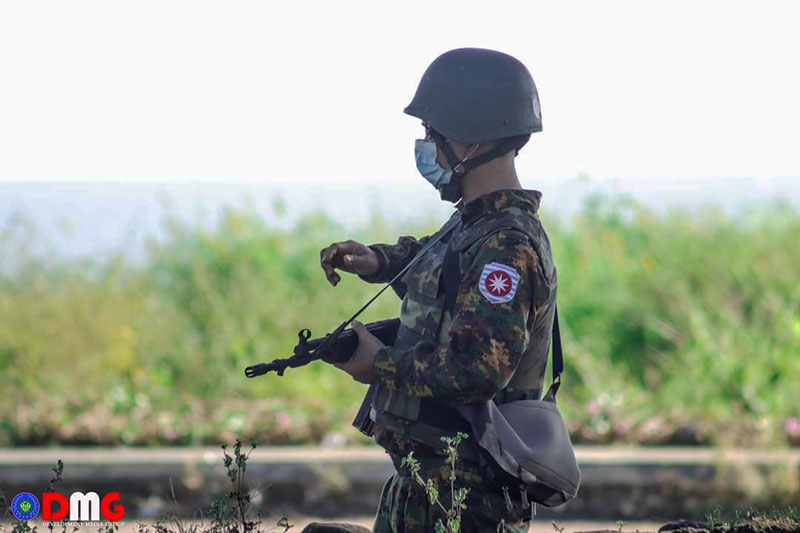 Myo Thiri Kyaw | DMG
15 December 2020, Sittwe 
A total of 50 out of 197 Tatmadaw members in Arakan State tested positive for COVID-19 following labs on December 13, according to the state's Department of Public Health. 
The tests took place at the 100-bed hospital in the No. 17 cantonment of the state capital Sittwe, said Dr. Soe Win Paing, assistant director of the department.  
"We do not know which military regiment they are from and how their health is. We are also not aware of how they were tested," he said.  
Travel restrictions have already been imposed on military regiments and units in Sittwe but it has been stricter since early this month, said an anonymous source from a military unit.  
"Almost all military units have already been under quarantine, but visiting the cantonment or travelling outside the cantonment was allowed at that time. It is stricter this month. People outside the cantonment are not allowed to enter. If a family needs to buy food, only one person is allowed to go to the market," the source said.  
The number of fatalities due to COVID-19 continues to rise in Arakan State, but capital residents have reportedly done a poor job of adhering to health regulations intended to prevent coronavirus spread, according to town elders in Sittwe.   
A total of 3,937 COVID-19 cases and 34 fatalities were reported in Arakan State as of December 14, according to the state Department of Public Health.