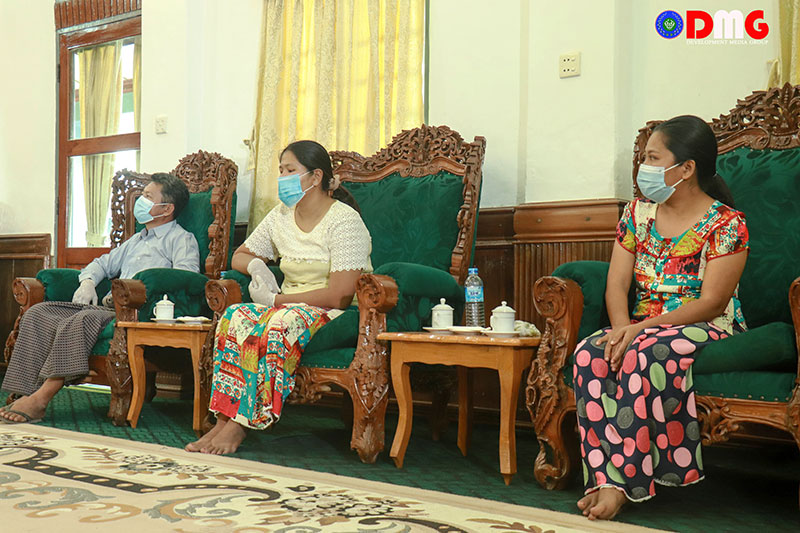 Min Tun| DMG
1 January 2021, Sittwe 
The release of three National League for Democracy (NLD) candidates by the Arakan Army was the result of negotiations between the Myanmar military and the ethnic armed group, the Tatmadaw True News Information Team said on January 1. 
The freed NLD candidates arrived in Arakan State capital Sittwe on Friday afternoon via military helicopter, accompanied by three members of the Tatmadaw. 
Major-General Htin Latt Oo, commander of the military's Western Command, handed the three candidates over to state government officials on Friday evening, with Arakan State Chief Minister U Nyi Pu and members of his cabinet accepting them. 
Daw Chit Chit Chaw, one of the abducted NLD members and a former candidate for the national legislature's Amyotha Hluttaw representing Taungup Township, said: "I want to tell all leaders of all organisations that are taking current duties to hand over the country to the younger generations to avoid creating political victims like us." 
Daw Chit Chit Chaw, Daw Ni Ni May Myint and U Min Aung were abducted by the Arakan Army on October 14 while campaigning in Taungup Township, where they were running for seats in the Amyotha Hluttaw, Pyithu Hluttaw and Arakan State Hluttaw, respectively.  
The Arakan Army said it handed over the three NLD members to the Tatmadaw delegation at 2:35 p.m. on Friday in Mee Kyaung Tet village, Myebon Township. 
In a statement, the Arakan Army also said all Arakanese people wanted the NLD government to immediately release imprisoned Arakanese politicians charged under various statutes without having committed any crime, as well as any other civilians and AA members similarly detained. 
The AA demanded that they be released in turn, as a gesture of shared peacemaking intent.     
The Tatmadaw and Arakan Army began a dialogue in November via an initial meeting online, with subsequent developments indicating the two sides had achieved a détente in their two-year conflict.  
On December 9, their representatives met in Panghsang, a border town in Shan State under the control of the United Wa State Army. Two days before the NLD candidates were released, top AA leaders and the Tatmadaw's peace negotiation chairman, Lieutenant-General Yar Pyae, held another virtual meeting on December 30 that reportedly lasted more than 30 minutes.