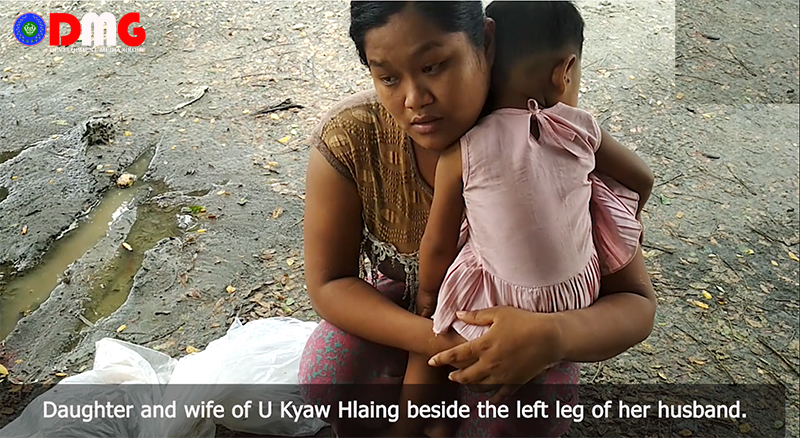 Hnin Nwe | DMG
8 January 2021, Sittwe 
Myanmar's military (or Tatmadaw) and police are conducting investigations into the death of a Kyauktaw resident whose dismembered body was found along a riverbank in the township after the Tatmadaw's alleged abduction of him last July. 
U Kyaw Hlaing from Pikethae ward in Kyauktaw, who made a living scavenging plastic bottles, was reportedly detained by military personnel on July 2, 2020.
His dismembered body parts were found on July 6 and 7 near the Kisspanadi Bridge, which spans the Kaladan River at an entrance to Kyauktaw town. He is survived by his wife and 2-year-old daughter. 
Tatmadaw and police on Thursday questioned witnesses at Shwe Kyaung Monastery who reportedly witnessed soldiers holding U Kyaw Hlaing. 
"They came to the monastery without prior notice. They asked me what I saw," said Ashin Sandima of Shwe Kyaung Monastery. "I told them that when I went to bathe, I heard him [U Kyaw Hlaing] call to me. So I went there and found him with his hands tied behind his back. As soldiers were around, I dared not speak a word, and went back to the monastery." 
U Aung Kyaw Oo, who trades in recycled plastic bottles and used to buy them from U Kyaw Hlaing, said he was also asked by the Kyauktaw Township police chief to come to Shwe Kyaung Monastery for questioning on Thursday morning. 
"The head of the police station asked me what I saw. I told him that U Kyaw Hlaing ran into Tatmadaw troops while he was coming to my home to sell plastic bottles. I saw from my house soldiers questioning him. I don't know what they were talking about, and I saw them taking him away," said U Aung Kyaw Oo. 
Present when U Kyaw Hlaing was arrested were members of the Kyauktaw-based 9th Military Operations Command including the commander, the Kyauktaw Township police chief and a police major, according to U Aung Kyaw Oo. 
"After I was questioned, that police major was asked to confirm my answer. The police major did not confirm if U Kyaw Hlaing was killed. He only said soldiers were at the time detaining a man who had killed a soldier. He did not say if that man was U Kyaw Hlaing or not," he said. 
DMG was unable to contact the chairman of the Tatmadaw True News Information Team and military spokesperson, Major-General Zaw Min Tun, or the Kyauktaw Township police, for comment. 
Daw Su Hlaing Win, the widow of U Kyaw Hlaing, said: "I want justice for my husband's death, and that harsh punishment be given to the perpetrators."