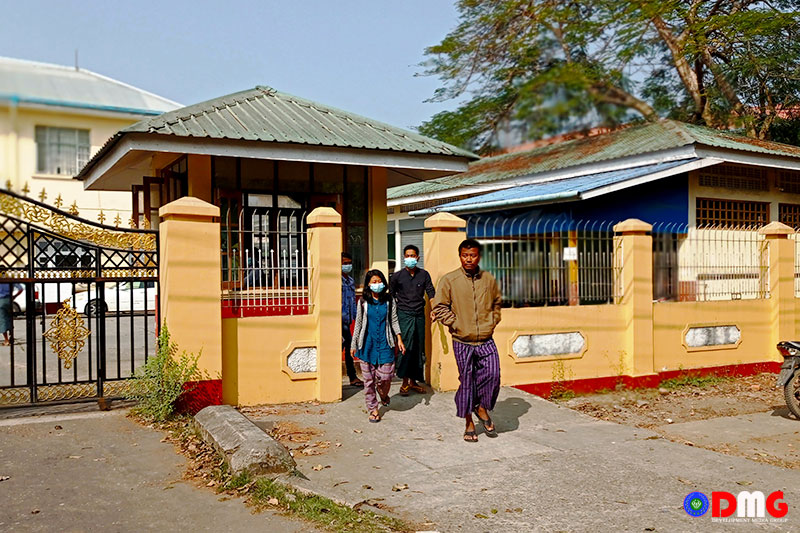 Aung Htein | DMG
14 January 2021, Sittwe 
Three activists who are facing charges under Article 19 of the Peaceful Assembly and Procession Law over a human rights demonstration in the Arakan State capital Sittwe last month have said they will ask the state high court to drop the charges. 
The Sittwe Township Court had its case management program meeting on Thursday and decided that the trial will be completed within six months. 
The trio — Ko Min Bar Chay aka Ko Than Hla, Ko Naing Naing Tun, and Ma Khaing Mrat Thu from the Rakhine Youth New Generation Network — led some 30 other protesters in commemorating International Human Rights Day in Sittwe on December 10. 
The three were detained as they protested along Strand Road in Sittwe and were released on bail later that evening. However, the Sittwe Township police force later filed a complaint against them for organising the event without its approval in advance. 
Ko Min Bar Chay said they asked the township court to drop the charge because the event was not a protest, but just a campaign to mark Human Rights Day. 
"We didn't violate the Peaceful Assembly and Procession Law; it was just an event to mark Human Rights Day. So we have nothing to do with the charge. That charge can be dropped. We hope that the court will drop the charge for the sake of the rule of law," he told DMG. 
The Sittwe Township judge reportedly told him that he had no authority to drop the charge, and that it depended on the state high court, and that he would report to the state high court about their call after the next hearing on January 22.