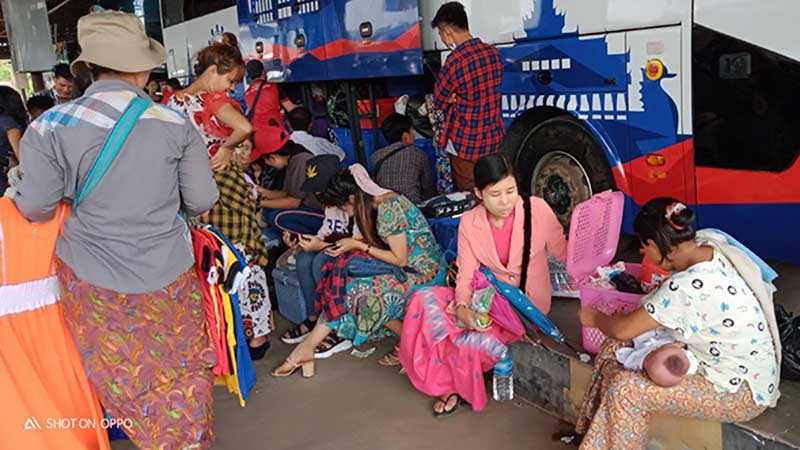 DMG Newsroom
17 March 2021, Yangon 
Some Arakanese migrant workers in Yangon are facing financial hurdles as they seek to return to Arakan State amid the political upheaval of recent weeks in the commercial capital, according to Yangon-based social organisations helping Arakanese migrants. 
Multiple Chinese-run factories were set ablaze on Sunday as security forces carried out a violent crackdown on anti-coup protesters in Hlaing Tharyar, an industrial suburb of Yangon where internal migrants are concentrated. 
Meanwhile, factories and workshops in neighbouring Shwepyithar Township have also been shuttered due to the political crisis, leaving many Arakanese migrants without wages and lacking the funds to return to their hometowns. 
"Arakanese workers in Hlaing Tharyar and Shwepyithar who have lost their jobs received neither their salaries nor compensation," said Ko Min Thuta of the Arakan Social Organization (Yangon). "They want to go back to Arakan State, but can't afford transportation costs. And it is not convenient for their relatives in Arakan to transfer money to them. So, I would like to ask the well-off people to help them return home." 
Currently, the association is arranging for their return in private cars, at a cost of K40,000 per head. It is also arranging for buses from long-distance bus lines to transport returnees to Arakan, Ko Min Thuta said.  
"Our factory caught fire a few days ago, and we were not paid our wages," said Ma Aye Aye Yi, who worked at a factory in Shwepyithar's No. 5 Industrial Zone. "We still can't pay rent to our landlord. We have children and we want to return to Arakan State, but we don't know how to return as we have no money." 
She added that most of the workers at the factory are Arakanese people and, like herself, the majority of them want to return to Arakan State but face financial difficulties.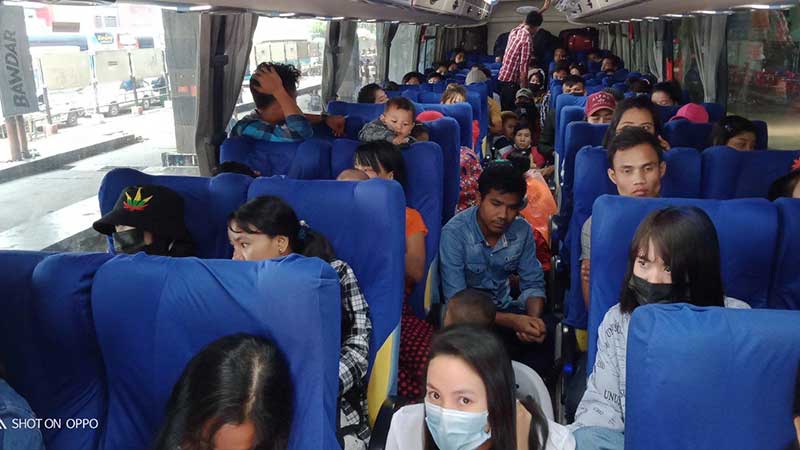 "Now, we can't go out, and we have to scrape by with what we have. If possible, we want to go back to Arakan State as soon as possible. But we have no money, and we can do nothing but stay here," said Ma Aye Aye Yi. 
Martial law has been imposed in Hlaing Tharyar and Shwepyithar since Sunday.
Ko Zaw Win Naing, who works at a factory in Shwepyithar's Wartayar Industrial Zone, said he had to borrow money from friends because his factory closed without paying salaries. 
"As there was no overtime since the COVID-19 outbreak, I was not able to save money. And the factory has been closed since protests began [in February] without paying salaries. We have had to get by on a small amount of money. And we don't have enough money to return home," he said. 
Another Yangon-based Arakanese organisation, the Arakan Welfare Association, said it is planning free transportation for struggling Arakanese migrants in Hlaing Tharyar wanting to return to their hometowns. 
A wave of Arakanese migrants already returned to Arakan State from Yangon last year following the closures of their factories due to the COVID-19 pandemic. Since February 2, the day after the Myanmar military's coup, more than 2,000 Arakanese migrants have returned to Arakan State.