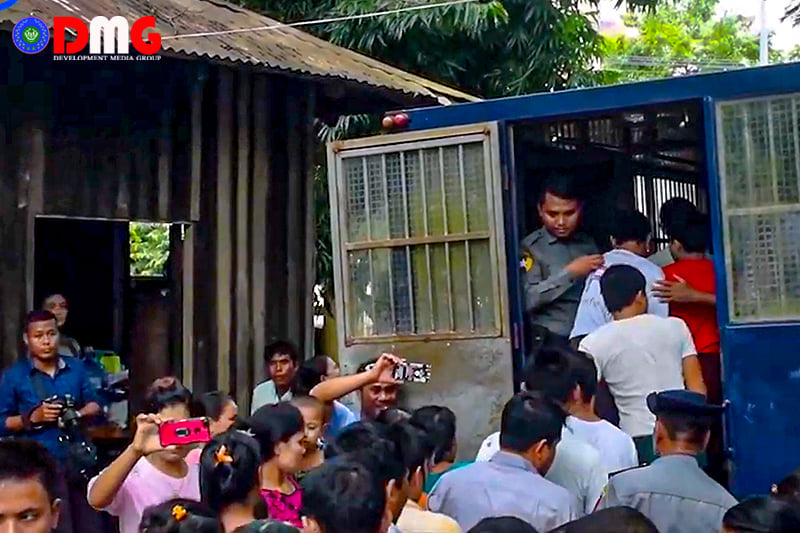 DMG Newsroom
3 April 2021, Sittwe 
People in Arakan State facing prosecution under the Counter-Terrorism Law for alleged ties to the Arakan Army (AA) will still have to stand trial despite Myanmar's military regime removing the ethnic armed group from its list of terrorist organisations, said a spokesman for the Arakan State Administration Council. 
"The cases will not be automatically dismissed just because the AA is removed from the list of terrorist organisations. Trials will be continuing," U Hla Thein, the state-level military governing body's spokesman, told the media on Thursday. 
There has been no particular instruction from higher-level authorities as to the lawsuits filed under the Counter-Terrorism Law, said U Hla Thein, who is also the military-appointed attorney-general of Arakan State.  
With the approval of the former Union government, Myanmar's Anti-Terrorism Central Committee declared the AA and its political wing, the United League of Arakan (ULA), to be a terrorist organisation on March 23, 2020. The military junta's national governing body, the State Administration Council, removed the ULA/AA from the list of terrorist organisations on March 11 of this year. 
The delisting raised expectations that people in Arakan State who were charged under the Counter-Terrorism Law on suspicion of having links to the AA would be released and see their cases dropped.  
More than 20 residents of Lekka village were arrested in April 2019 over their alleged ties to the AA, and they have been held in custody for more than two years facing chargers under the Counter-Terrorism Law. 
"I want authorities to release them as AA is no longer a terrorist organisation after all," said Daw San Tha Nu, the mother of 24-year-old Lekka detainee Ko Oo Hla Maung. 
"They were brought to the court [for their most recent hearing], but the court didn't hear them, and just appointed a date for the next hearing. They have been detained for too long, and they remain under detention against all our expectations."  
U Nyein Chan, director of the Arakan State-based Thazin Legal Institute, said: "As the law has no retrospective effect, the defendants will have to continue to face the lawsuit." 
A total of 362 people were arrested on suspicion of having ties to the Arakan Army during two years of fighting with the Tatmadaw in Arakan State that spanned approximately December 2018 to November 2020, according to Thazin Legal Institute. 
Seventy-eight of them — one from Mrauk-U District, four from Kyaukphyu District, one from Maungdaw District, 67 from Sittwe District and five from Thandwe District — have so far been released due to lack of evidence.