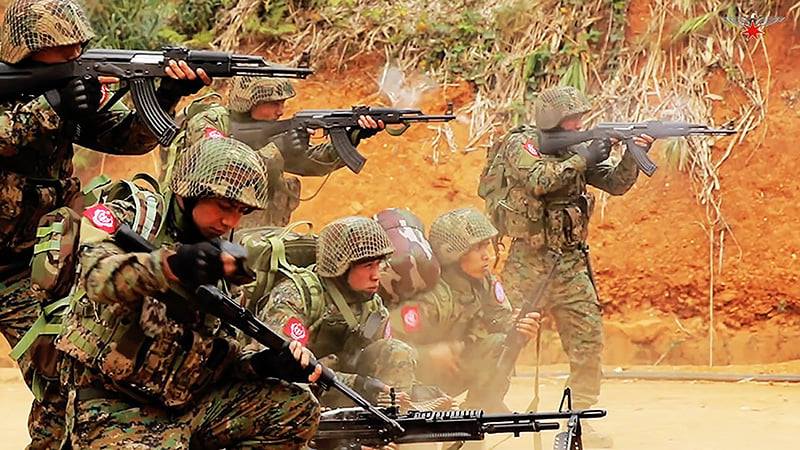 DMG Newsroom
6 April 2021, Sittwe 
Amid growing concerns over an increased Tatmadaw presence in Arakan State, the Thayninga Institute for Strategic Studies, a think-tank formed by ex-military officers, has suggested that there is little chance of fresh clashes erupting between Myanmar's military and the Arakan Army (AA).  
In a joint statement on March 30, the Three Brotherhood Alliance — an ethnic armed group coalition that includes the AA, the Ta'ang National Liberation Army and Myanmar National Democratic Alliance Army — said they would reconsider alliance plans to extend its unilateral ceasefire. 
The tripartite grouping also warned the military that its members would collaborate with other ethnic armed organisations and pro-democracy forces to defend themselves from the regime if its violence and brutal crackdowns against peaceful protesters continued. 
Following that statement, some local media outlets reported increased military deployments in Arakan State. 
Dr. Naing Swe Oo, executive director of the Thayninga Institute for Strategic Studies, said one must also take external factors into consideration when approaching Arakan State issues.  
"Arakan State has issues that attract international attention. So, this can be the reason Myanmar's military has deployed troops there. Again, Myanmar's relationship with Bangladesh is not as good as it was before, and there have been political tensions. So, this can be a reason behind military deployments in Arakan," he said. 
"Myanmar's military maintains inspections in some places in Arakan State on vehicles coming from other parts of the country, but it is no longer making thorough inspections like it did before," said a spokesman for the Arakan National Party, U Pe Than. 
"They don't appear to be making preparations for a fight. We can't know if military deployments have increased because military units are coming in and going out of the state to rotate duties. I haven't seen that deployments have increased significantly," U Pe Than added. 
Myanmar's military is resettling internally displaced people (IDPs) and clearing landmines, actions that bode well for continued peace in Arakan, said Dr. Naing Swe Oo. 
"My view is that it is unlikely that fresh clashes may erupt. Casualties are inevitable in war. And people will also have to suffer," he said. 
Arakanese people will face more hardship if clashes break out again in Arakan, said U Khaing Kaung San, executive director of the Wan Lark Development Foundation (Arakan State). 
"If renewed clashes take place, people who have returned to their homes from displacement camps may have to return to camps again. There will be more troubles for them. There will be more displaced people and public trust in the current government will decline," he said. 
Conflict between Myanmar's military and the AA plagued Arakan State from December 2018 to November 2020, but the fighting has now ceased for nearly five months. 
According to the Rakhine Ethnics Congress, more than 200,000 people were displaced over the two years of fighting. About 130,000 remain in displacement camps, while many have returned to their homes since the cessation of hostilities.