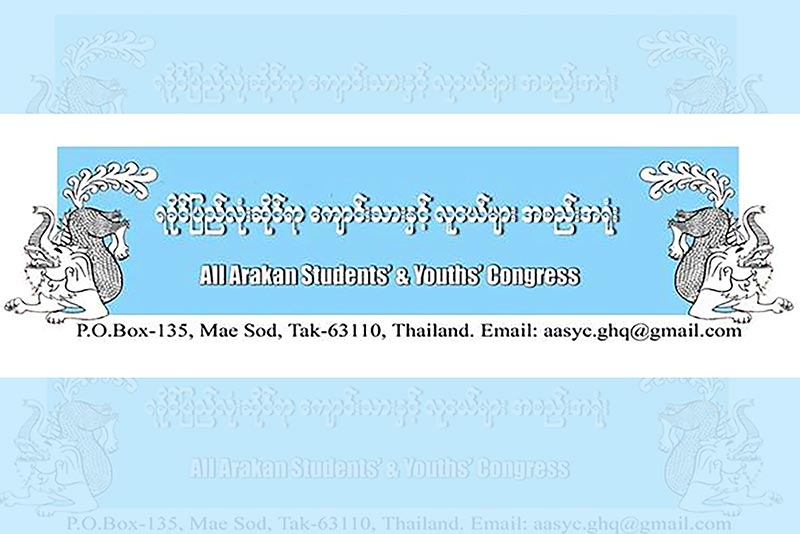 DMG Newsroom
21 April 2021, Sittwe

The secretary of the All Arakan Students' & Youths' Congress said the AASYC sees the recently formed National Unity Government (NUC) as having the potential to gather the forces of anti-dictatorship throughout Myanmar under one banner.

The Committee Representing Pyidaungsu Hluttaw (CRPH) on April 16 announced the formation of the NUG, a direct challenge to the legitimacy and authority of the junta government that seized power in a coup on February 1.

"I especially hope the NUG can theoretically and practically connect oppressed Bamar people with other ethnic nationals who have been fighting for national equality and self-determination since Myanmar achieved independence [in 1948]," said the AASYC secretary, Ko Tin Oo.

On Monday, the AASYC released a statement welcoming the NUG, saying the youth organisation recognises the NUG as an interim government that is essential for abolishing the 2008 Constitution, eliminating imperialism, chauvinism and dictatorship, and creating a federal democratic union.

The statement also said AASYC would coordinate with the NUG to further national equality, self-determination, democracy, human rights, the rule of law, peace and development.

"As for AASYC, we have two approaches to coordinating with the NUG. The first one is to join in the fighting," Ko Tin Oo said. "Additionally, we will take responsibility for what we can do to achieve common goals such as abolishing the Constitution, eliminating dictatorship and creating a federal democratic union."

The AASYC was formed in Bangkok on October 6, 1995, by Arakanese students and youths who fled Myanmar in the years following the country's 1988 pro-democracy uprising.

The CRPH invited the Arakan Army to participate in the NUG but the AA declined because it has its own stance, the ethnic armed group's commander-in-chief, Major General Twan Mrat Naing, tweeted on April 16.

Less than three months since the coup, the number of people killed in violent crackdowns led by security forces reached 739 on April 21, according to the Assistance Association for Political Prisoners.