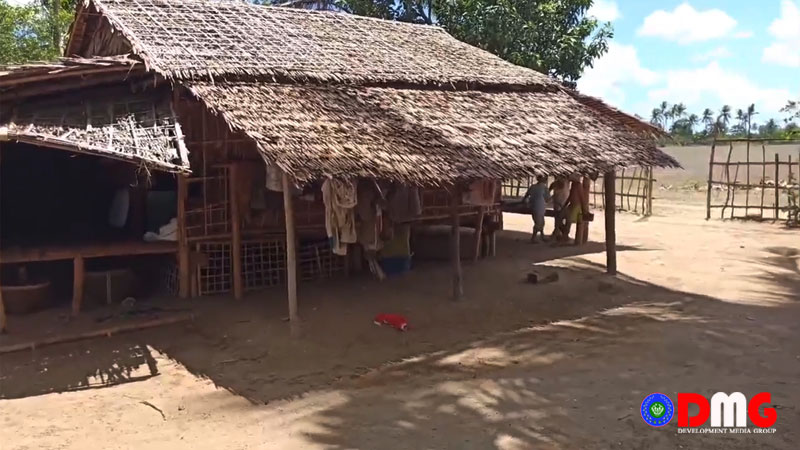 DMG Newsroom
15 May 2021, Manaung
Four families in Arakan State are demanding that authorities pay compensation after the Manaung Township Administration Council told them to leave their houses near Thamebala village by the end of May.
U Shwe Oh, U Zin Min Aung, U Maung Phyu and U Maung Tha Nge have asked that alternative land or compensation be provided if they must leave the land on which they are currently living. 
They have been told to vacate their squattered houses, which were built on pasture land near the village. 
Daw Amar Shwe, the wife of U Shwe Oh, said they bought the land for K50 in 1986.
"We were told to pay K50 for a 60-feet-by-40-feet piece of land, and that we could sell the land four years after we paid the fee. So, we paid K50 for the land. Now, after 40 years, we are told to leave the land because it is a pasture land," she said.
Daw Shwe Zin Win, the wife of U Zin Min Aung, said if they are forced to leave their land without being paid compensation or given alternative land, the family will be in trouble.
"We can leave here if we are paid compensation or a place. Otherwise, we will face difficulty for our livelihood as well as healthcare. And our children are young," she said.
DMG phoned U Myo Myint Than, the administrator of Thamebala village-tract, seeking comment on the four families' predicament, but he declined to comment.
In 2017, a family was charged by the township administration office for building a house on the pasture land without permission, with a court fining them K200. But houses on the land were not demolished, and last year notice letters were sent to the families ordering them to vacate the land.
The families submitted a petition to local MPs and authorities asking them to arrange a suitable resolution to the matter, but no response came and another order to leave the land was sent this year.