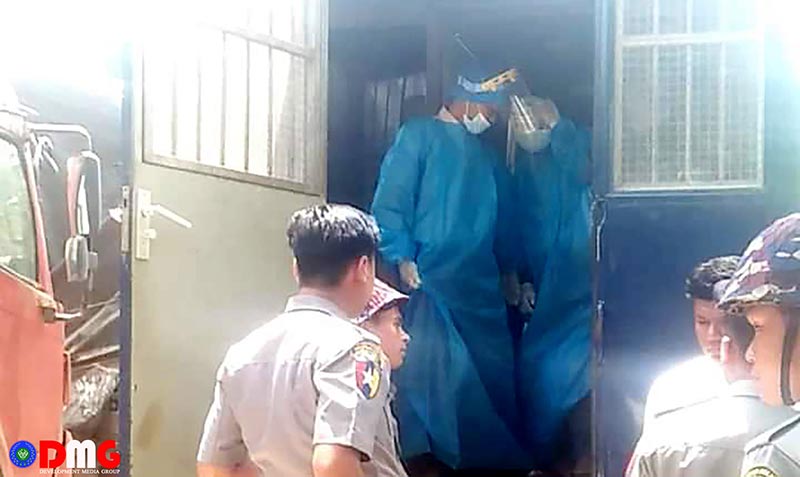 DMG News
7 June 2021, Taungup 
Family members are hoping for the release of nine locals from Taungup Township arrested more than a year ago and charged for their alleged affiliation with the Arakan Army (AA). 
The nine males are from four villages in Taungup Township, and they were taken from their homes by members of the security forces on June 2, 2020. 
The nine have been on trial for about a year after being charged under Section 50(i) and Section 50(j) of the Counter-Terrorism Law over alleged ties to the AA, which the government had previously designated a terrorist group.
Family members are hoping that the charges against the nine will be dropped as the Myanmar military, or Tatmadaw, has withdrawn similar charges in some other Arakan State cases. 
"The Tatmadaw has taken people from their homes but has not yet released them. Everything is troubling. I want them released as soon as possible," said U Shwe Aye, the elder brother of Ko Than Zaw Htay and Ko Than Zaw Zaw, two of the nine accused. 
"My son couldn't stand on his own because his legs were burnt by cigarette butts. They took my son away from home for a while. They have not released him yet," said the mother of detainee Ko Nay Ye Win, Daw Than Nyunt Aye, who also demanded the immediate release of the nine Taungup residents. 
The latest hearing in the case against the nine was held on June 3, but proceedings were rescheduled for June 15 due to the absence of a plaintiff. 
"There are traffic problems due to the coronavirus pandemic at this time. The case has not been investigated yet. We also hear that these cases are currently being dropped," said U Tin Nyo, a lawyer for the accused. 
Families of the detainees said Tatmadaw soldiers searched their homes on the day of the arrests, confiscating their ID cards and mobile phones. 
Seventeen cases of minors who were arrested on suspicion of illegal ties to the AA were dropped last month, according to the attorney-general for the Arakan State Administration Council. 
The prosecution has also reportedly filed a motion to drop the charges against some Arakanese youths from the Arakan Association (Singapore), including the younger brother of AA leader Major-General Twan Mrat Naing.