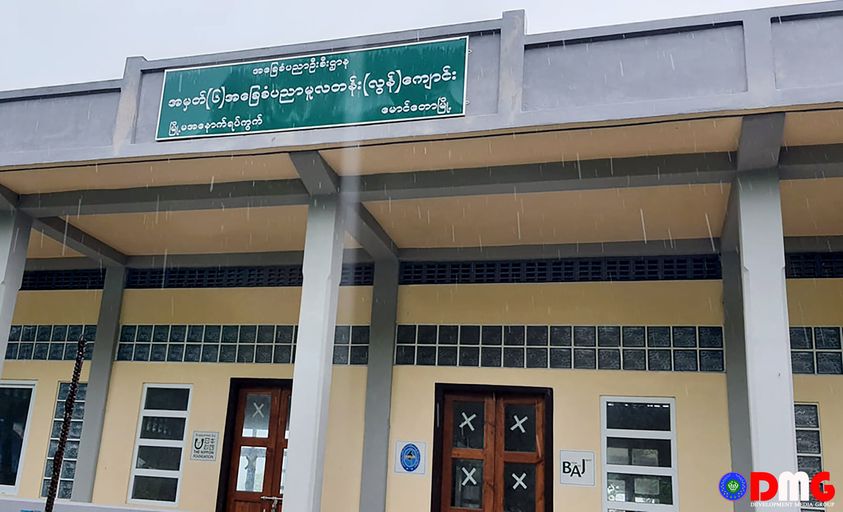 DMG Newsroom
1 July 2021, Maungdaw
Two schools and two classrooms in Arakan State's Maungdaw Township have been temporarily closed from July 1 after four teachers were found to be infected with Covid-19, according to the Maungdaw Township education officer. 
"According to a decision made during the township Covid-19 control and prevention committee's meeting, two schools and two classrooms were closed temporarily," said U Kyar Sein Aung, the Maungdaw Township education officer. 
The two schools that have been temporarily shuttered are Sarkonbote post-primary school and No. 6 post-primary school. One teacher from each of those schools was diagnosed with Covid-19 on June 29. 
Classes were also suspended for two individual classrooms after a pair of teachers — one from No. 1 basic education high school and the other from 4th-mile basic education high school, both in Maungdaw Township — were diagnosed with the virus on June 30. Students from the schools were placed under home quarantine and the classrooms were sprayed with disinfectant, U Kyar Sein Aung said. 
Up to 43 Covid-19 patients have been confirmed in Maungdaw Township so far, with five reportedly discharged from the hospital. 
Of the confirmed virus patients, 32 are receiving medical treatment at Maungdaw District People's Hospital while six patients are being treated at Thiri Mingalar Hall, which was converted to a temporary hospital for the overflow Covid-19 caseload. 
With Covid-19 cases continuing to rise in Maungdaw Township, a mask mandate was imposed on June 30, with teams organised at the ward and village level to monitor compliance. 
As of July 1, the number of confirmed virus patients in Arakan State had risen to about 150, and a diabetic woman in Sittwe became the first state fatality of the virus's third wave on June 28.