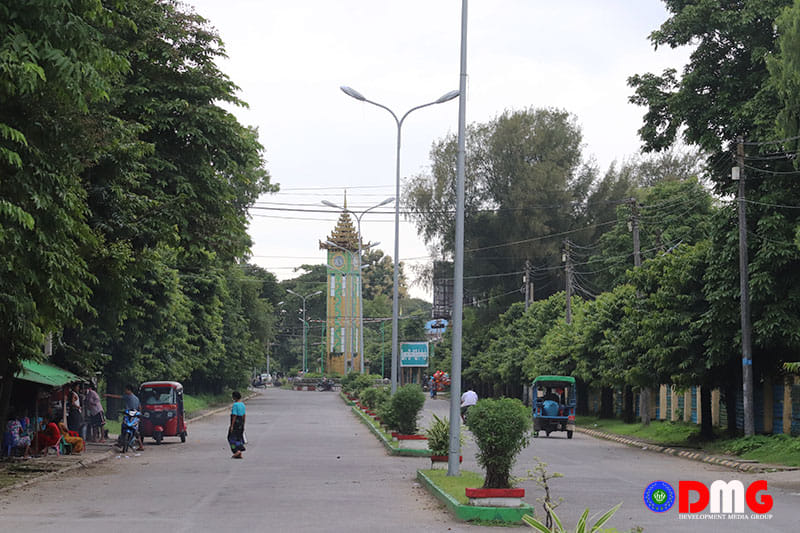 DMG Newsroom
19 July 2021, Sittwe
Two monasteries in Sittwe have been placed on lockdown after monks at the separate facilities in the Arakan State capital tested positive for coronavirus on July 19. 
Datlal Monastery was locked down after the Venerable Thuwunna, a prominent Buddhist monk and abbot of the monastery, was diagnosed with Covid-19 on Monday upon being admitted to Sittwe General Hospital after being ill for about a week, Ko Zar Ni, a nephew of the monk, told DMG. 
"The abbot is currently being treated at Sittwe General Hospital. Two monks who cared for the virus-positive abbot are isolated at the monastery.  The abbot has been living separately since the illness, so there is not much to worry about for the rest of the monastery," he explained. 
At present, the abbot is only slightly ill and is not in critical condition, and is receiving full-time medical care, Ko Zar Ni added. 
"There is no shortness of breath or oxygen deprivation in the abbot's condition. The abbot was hospitalised at Sittwe General Hospital to make sure the monk was safe. The abbot is only slightly ill," he said. 
The monastery is currently locked down, so monks and students at the monastery will be provided with comfortable living conditions and food, he added. 
Tankhoe Monastery in Sittwe's Baung Dwat Thar Su ward, meanwhile, was also placed on lockdown by local authorities on Monday after a monk from the monastery was infected with the virus, according to Ashin Zaneinda, the monastery's abbot. 
"An assistant abbot was hospitalised with the virus after he suffered from illness. The monastery was locked down after the assistant abbot tested positive for Covid-19," Ashin Zaneinda told DMG. 
There are about 30 monks and students at the monastery, and the abbot said there is a problem with alms because the lockdown has prevented them from going out. 
"The monks from the monastery are worried about food because they are banned from going out for meals," the abbot explained. 
A day meal was offered to the monks on Friday, when they cooked all the vegetables available at the monastery, said Ko Maung Hlaing Win, a student of the monastery. 
"For today, I had to cook for the monastery and serve a day meal to the monks. I don't know what to do for the next few days," he said. 
As of July 18, a total of 1,436 coronavirus cases and 41 deaths were reported in Arakan State during the pandemic's ongoing third wave.