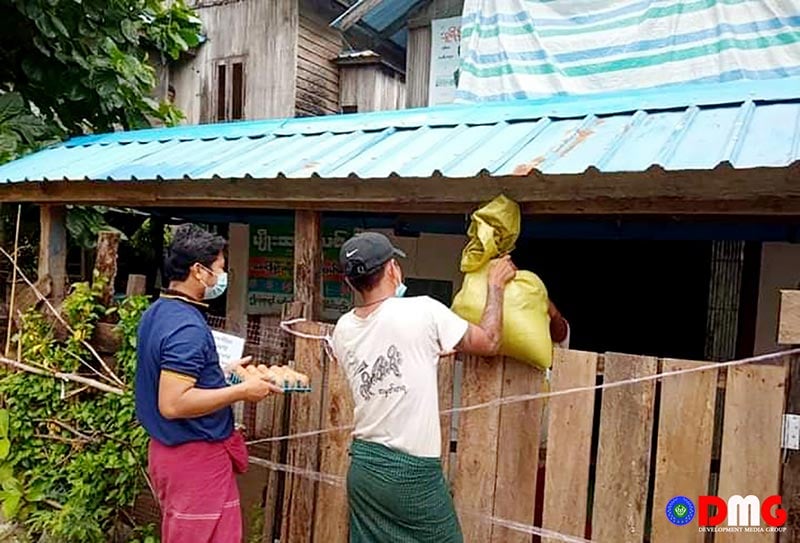 DMG Newsroom
19 July, 2021, Sittwe

Some patients in Arakan State who have been infected with Covid-19 and are receiving treatment at hospitals say they have had difficulty accessing food and personal items.

A person in Kyaukphyu Township who was diagnosed with Covid-19 told DMG that he had to pay K3,500 ($2.15) for two meals and bought them with his own money.

"I had to order breakfast and dinner for 3,500 kyats from outside. We also have to buy and use drinking water and personal items with our own money. The hospital provides only the necessary medicine. If you stay in the hospital for 11 days, you may face financial difficulties," he said.

"There are a lot of problems with the equipment of patients infected with the virus. In the past, there were donations from donors, but now there is no support from donors. Coronavirus patients have to buy food with their own money," said a healthcare worker in Kyaukphyu Township.

Hospitals in Sittwe have had to take care of Covid-19 patients whose families cannot deliver food and supplies from home amid a lack of donors, said a healthcare worker who spoke on condition of anonymity.

"At the moment, there are no donors, so everyone has to buy and eat on their own schedule. The hospital provides food for a small number of virus patients, some of whom are completely destitute and their families cannot supply food," he explained.

"Virus patients have to buy their own food. Two meals are set at 4,000 kyats per day. We have many difficulties, but we have to live comfortably," said a Covid-19 patient receiving medical treatment at Sittwe General Hospital.

"Such difficulties will be everywhere," U Hla Thein, a spokesperson and attorney-general for the Arakan State Administration Council, told DMG. "Relevant authorities and township administrations also face difficulties. We have provided as much as we can. In addition, the local government, in collaboration with civil society organisations, has provided some services for patients with the virus."

As of July 18, a total of 1,436 coronavirus cases and 41 deaths were reported in Arakan State during the pandemic's ongoing third wave, according to the state's Department of Public Health.