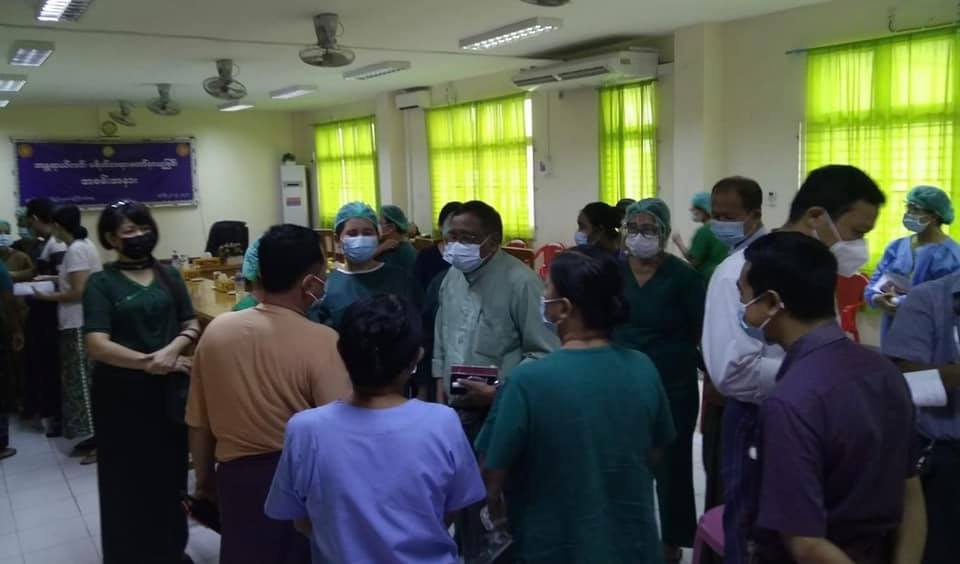 DMG Newsroom
23 July 2021, Sittwe
The Arakan State Administration Council has instructed healthcare workers not to give interviews to media outlets unless necessary to avoid misinterpretation, adding that the order was intended to prevent misunderstanding between health workers and members of the public. 
Media agencies are, however, free to interview health officials if necessary, said U Hla Thein, spokesman of the Arakan State military council. 
"It is not the time to have disputes now. There are urgent things to do," he said. 
At least 10 nurses at Sittwe General Hospital refused to work on Wednesday, citing security concerns, after they were allegedly threatened by the relatives of patients receiving treatment at the hospital. 
The nurses have, however, returned to work after local military authorities dispatched 10 policemen to the hospital to provide security for them. 
Authorities have also instructed healthcare staff to use larger 'No photography and video recording allowed' stickers at public hospitals across the state. 
"They already have such signs, but they are too small to be noticed. So, the relatives of patients record videos. So, we have instructed them to use larger stickers," said U Hla Thein. 
Military authorities also met nurses at Sittwe General Hospital on Wednesday and promised to take action against those who threatened them on social media.