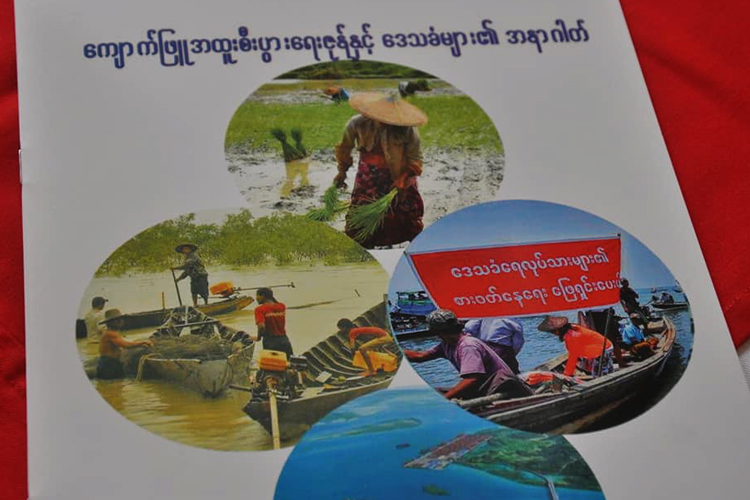 Khaing Min | DMG
1 July, Kyaukphyu 
The Kyaukphyu Rural Development Association (KRDA), a local organization in Arakan State, on 30 June released a report that addressed local residents concerns and hopes about the Kyaukphyu Sepcial Economic Zone project to be implemented in Kyaukphyu township.
The report titled "Kyaukphyu Special Economic Zone and Local People's Future" focused on 12 points and includes the responses of political parties, CSOs, elderly people from communities, farmers, women and fishermen. 
Ko Tun Kyi, coordinator of the KRDA, said that the report has been released to ensure the Kyaukphyu SEZ is a project that will assume full responsibility and accountability and to generate a policy that's beneficial for all local residents.
"The report includes the actual situation in Kyaukphyu and local residents' opinions and expectations concerning the SEZ. We're motivated to set policies that create long term benefits for local people from the project. We expect that people directly involved with the undertaking will maintain the proper degrees of responsibility and accountability," he said. 
The Myanmar government and the Chinese company CITIC inked the agreement to implement the Kyaukphyu SEZ project on over 4200-acres of land. The deep-water port project will be developed in 2019.
People involved in the development project expect a number of risks when the deep-water port is constructed. Job opportunities for locals on the port will be few because much of the work will be very specialized. In addition local farmers' fishing areas may become smaller and fish resources will be reduced because the project will affect the environment and the riverway, Ko Tun Kyi said.
The association released its first report in 2017, and titled "Opportunities and Challenges of Kyaukphyu Special Economic Zone."
Ko Tun Kyi said that the first report pointed out the impacts of the project on local people's livelihood, education and health affairs so that the government and the company can take responsibility for these situations.
But he did not notice any issues relating to benefits locals will reap from the development project based on the points included in the first report, he added.
"I hope the government will address these issues in the new report and clearly state how local people will be advantageous from the undertaking," he said.
The new report stated some points to bring about better laws and bylaws in relation to the SEZ project.