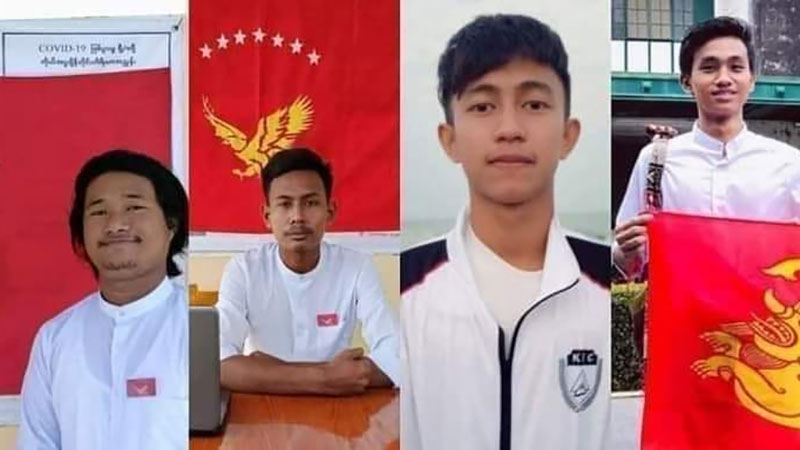 DMG Newsroom
24 September 2021, Sittwe 
The Sittwe District Court has dismissed the appeal of four Arakanese students recently sentenced to two years and six months in prison, according to a lawyer representing the defendants. 
The four Arakanese students were charged under two sections in connection with a protest march from Winkabar Ground in Sittwe on October 10 of last year, and two sentences were upheld, said U Kyaw Nyunt Maung, the attorney. 
"The students have pleaded guilty to conspiracy to commit a crime, but the maximum sentence is too high to appeal. Another thing is that it is illegal to have two separate convictions on the same offence. Because it was done at the same time, the punishment could not be doubled. We are appealing their sentences for two reasons that are against the law," the lawyer explained. 
Section 22 of the Interpretation Act of 1973 stipulates that if an act or omission is committed under two or more laws, the perpetrator shall be prosecuted under one of these laws and shall not be punished more than once for the same offence. 
The lawyer criticised the Sittwe District Court for its dismissal of the case against the four Arakanese students without hearing the appeal. 
"The dismissal of the case immediately by the district court is considered a violation of the law," he said. 
The appeal was rejected by the Sittwe District Court and the case of the four Arakanese students will be appealed to the Arakan State High Court, according to the lawyer representing the case. 
The four students — Ko Kyaw Naing Htay, Ko Than Naing, Ko Mrat Soe Win and Ko Kaung Tun — were sentenced on September 16 by the Sittwe Township Court under Section 505(b) of the Penal Code and the Natural Disaster Management Law. 
The students joined an anti-war demonstration organised by the Arakan Students' Union on October 19, with protesters' slogans including "No Fascist Army", "No Colonial Government", "No Bloody Government", and "Burmese Government Get Out". 
The Arakan National Party's Youth Wing has denounced the verdict, saying they stand with those suffering casualties and displacement during armed conflict in Arakan State.