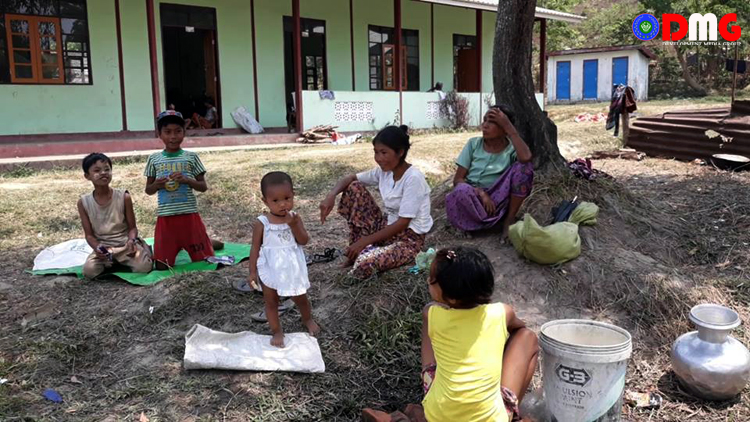 Khaing Roe La | DMG
11 July, Buthidaung

More than 30 people from Kan Pyin village in Buthidaung Township have been sequestered in a monastery by a military troop. The villagers have been ordered not to go outside the monastery for nine days, so their food supply has run out.
The villagers have been cloistered since 2 July, they cannot return to their village to work, so they lack of food, said a Kan Pyin villager who does not want to be named.
"They had an insufficient amount of food for their lunch today. The amount of rice they have for meals decreases at every meal, so tonight's dinner will not include rice," the villager said yesterday.
Since there is no safety in the region, Kan Pyin villagers have been taking shelter in Zedi Taung IDP camp in Buthidaung Township and Sin Khone Taing IDP camp in Rathedaung Township since December last year. Currently, some villagers returned to their village to work, but they assembled in the village monastery on orders by the Tatmadaw.
"At one point they returned home to do cultivation, so they did not take much food. Yet after being assembled in the monastery for nine days, they ran out of food. They asked the military troop if they could search for food, but they are not allowed," the villager said.
More than 100 soldiers from No.22 Brigade are temporarily positioned at a hill near the village's monastery. They collected villagers and sent them to the monastery.
U Tun Aung Thein, Arakan State MP for Buthidaung Township, said that the Tatmadaw should not hold the villagers for a long time because it could affect the villagers mentally although they have not been physically assaulted.
"The Tatmadaw needs to protect people. It is important for the Tatmadaw not to torture people mentally and physically. So, it should allow people freedom of movement," the lawmaker said.
The DMG phoned colonel Win Zaw Oo from the Western Command for comment about the villagers' situation, but he was not available. So, the DMG could not confirm anything about the situation.
Currently, 32 villagers are in the monastery. There are 16 men and they have to stay near the soldiers. The remaining 16 people are women and children. If the villagers need to go outside village to tend to their cattle, the Tatmadaw will let five people can go out for a few hours to do work. Sometimes, the Tatmadaw assembles women near them, villagers said.
There are about 400 people and over 60 houses in Kan Pyin village.