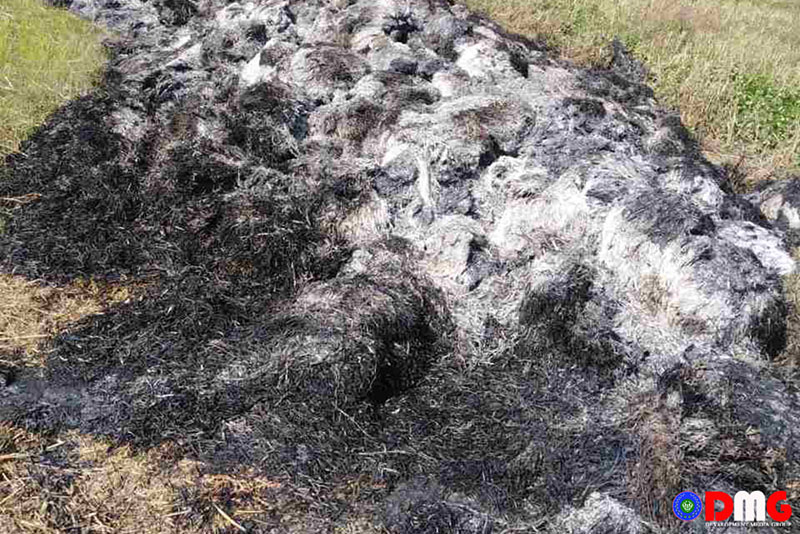 DMG Newsroom
29 December 2021, Minbya 
A suspect is being questioned by the Arakan Army (AA) after bundles of paddy belonging to a Muslim farmer from Nagayar village in Arakan State's Minbya Township were reportedly set on fire last week, according to local villagers. 
The sheafs of paddy owned by U Lumalarki were burned to ash on December 23 and fellow Muslim farmer Ielia, 25, was detained by the Arakan Army on December 24 in connection with the case, said U Lubiarrlaw, a village official. 
"The owner of the paddy bundles and the suspect had an argument in the past. The suspect's cows ate bundles of paddy owned by U Lumalarki," the village official added. 
U Aung Thein, the administrator of Nagayar village-tract, said he wanted the incident to be investigated. 
"We want the truth to be revealed. Muslims and Arakanese in the village-tract want to live together peacefully. We don't want to cast doubt on each other," the administrator added. 
Nagayar village-tract is an ethnically diverse area consisting of five Arakanese villages, two Daingnet villages, one Mayamargyi village and three Muslim villages. 
The Arakan Army has also taken four suspects into custody in connection with a December 20 knife attack in which the legs of five cows belonging to a farmer in Mucha village, Mrauk-U Township, were slashed, according to the cattle owner. 
Two bundles of paddy were also reportedly set on fire in Kanda (Muslim) village, part of the Pho Khaung Chaung village-tract in Arakan State's Buthidaung Township, on December 21. 
Prior to that, there were multiple reports of paddy harvesters and sheafs of paddy being set on fire in Arakan State over a period from December 9-14. 
In a statement on December 17, the United League of Arakan (ULA) — the Arakan Army's political wing — said that some townships in Arakan State had experienced a "series of extraordinary events" this month that it warned could lead to sectarian conflict. 
The Arakan Students' Union, a group of Muslim students and the Arakan Students' Union (Universities – Yangon) issued a joint statement on December 23 condemning the suspected crimes in Arakan State as acts of sabotage intended to divide the people of Arakan State.