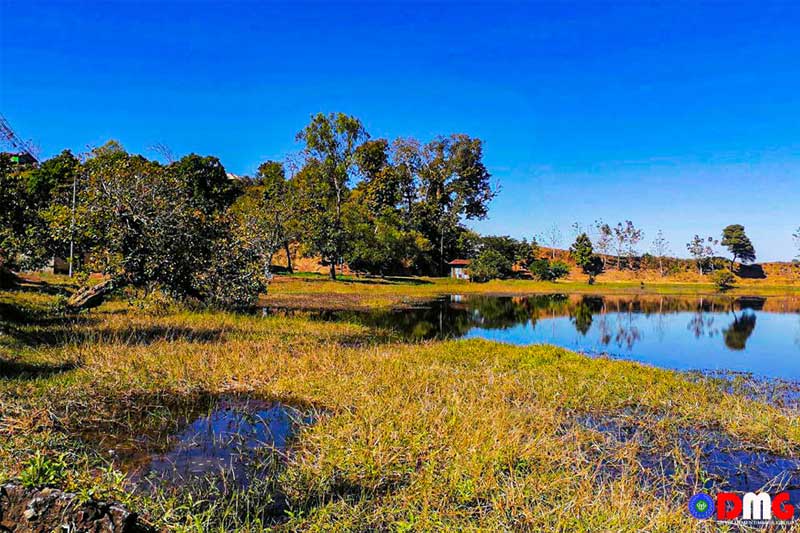 DMG Newsroom
11 January 2022, Mrauk-U
Locals say the water level at Latsay Lake, which supplies water to Mrauk-U, Arakan State, has changed due to silt and trash, and the water is no longer suitable for drinking.
According to locals, the colour of the water in Latsay Lake has changed due to the fall of dry leaves and the increase in mudslides year by year.
"We have been drinking water from Latsay Lake for a long time, but now the water in the lake has increased and the sediment in the water has increased. We had to wait for three days to drink water from the lake. Now the water in the lake has changed to red," U Phru Thar Tun, a resident of Mrauk-U, told DMG.
Previously, the water in Latsay Lake was described as clean, but since about two years ago, the colour of the water has changed due to silting and mudslides affecting the lake.
Daw Khin Than, chairwoman of the Mrauk-U Cultural Heritage Conservation Association, said the water at Latsay Lake was tested by the Health Department for sediment and bacteria levels.
"There is mud and bacteria in the water. The people of Mrauk-U seem to be drinking unclean water. We want to repair Latsay Lake," she added.
U Zaw Lin Oo, an Mrauk-U resident, said Latsay Lake has a higher rate of silt during the open season than the rainy season, and fish often die. "The water is rusty [red-coloured]. The water should be allowed to settle for three days before use," he added.
U Shwe Maung, an executive officer of the Mrauk-U Township Development Committee, said that it was difficult to remove silt from Latsay Lake and that it had been submitted to the district development committee to purchase water on a floating system instead of an underground pipeline system.
"The mud in the lake increases year by year. The location is also difficult to retrieve. So if you keep the hose underground and supply water, the mud will stay in the water. The district has been asked to build a floating system to make it easier to use water without mud," he said.
Locals in Mrauk-U Township mainly use water from Latsay Lake and Taung Phyu Dam for drinking.