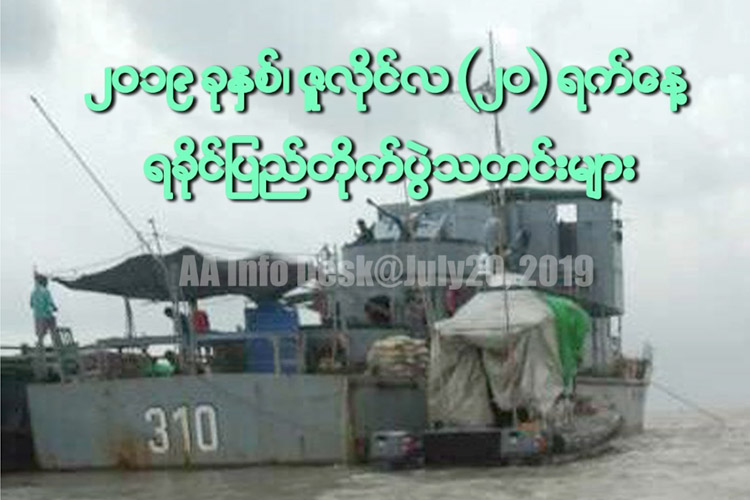 Cha Lu Aung | DMG
20 July, Sittwe 
The AA attacked a ship belonging to the Myanmar Navy force in Pyar Bin Yin creek in Rathedaung Township early morning on July 20, the AA's spokesperson told the DMG.
Since the Navy's vessels are playing the key role with offences against AA, including air and naval forces the AA attacked the vessel, the AA's spokesperson Khaing Thukha said.
"I confirmed the attack but I didn't get detail of casualties. I am sure that the attack resulted in heavy casualties," he said.
Colonel Win Zaw Oo from the Western Command said that the Navy ship was attacked and the Tatmadaw troops currently have conducted regional clearance operations.
"Nothing happened. There is no report about casualties," he said.
A villager said that local residents fled to safety when the attacks started.
 "We heard three rounds of gunfire at about 8 a.m. in the morning. We felt the earth shaking. And we saw smoke from a vessel. There were two vessels. Villagers left their homes, only a couple of elderly people remained," the villager said.
On 19 July, the AA's commandoes attacked two vessels owned by the Myanmar Navy operating in the Taung Sein River near Thayet Oat village in Myebon Township, the AA released a statement.
The very first clash in Myebon township occurred on 19 July. 
The AA said that it would retaliate against offensive operations of the Myanmar Army and it would extend its war front if it was necessary.