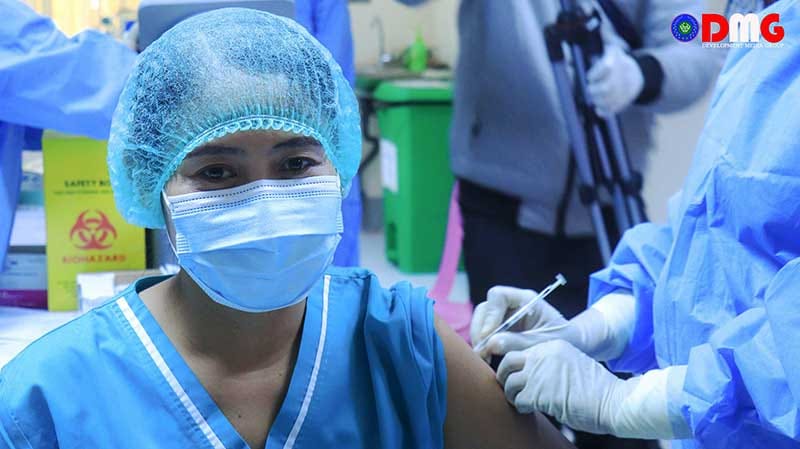 DMG Newsroom
22 April 2022, Sittwe 
Eighty-six percent of the population in Arakan State has been vaccinated against Covid-19, according to the state's Health Department.
The department aims for 100 percent coverage of both doses of the Covid-19 vaccine in Arakan State, said the assistant director of Arakan State Public Health Department, Dr. Soe Win Paing, who acknowledged that they likely would not reach that goal.
"We expect to finish the vaccination programme by the end of April," he told DMG. "However, it is not yet possible to achieve 100 percent coverage in every township. Some people did not receive jabs because they were sick. Some people refuse to get the Covid-19 vaccine. And there are people who left Arakan State for foreign countries, either legally or illegally. Anyway, we will vaccinate anyone who wants to get vaccinated."
He urged local residents to continue to adhere to Covid-19 regulations issued by the Health Department as virus cases continue to decline in Arakan State and nationally.
"Though Covid-19 cases have dropped significantly, we will enforce the same Covid-19 regulations as in other regions and states," said Dr. Soe Win Paing.
On April 14, Myanmar's Health Ministry expanded its allowance on public gatherings, permitting up to 400 people to congregate, due to a significant decline in new Covid-19 infections and deaths across the country.
The Health Ministry said just 19 new cases of Covid-19 were reported on April 20. As of April 19, nearly 29 million people had received at least one dose of the Covid-19 vaccine nationwide, and about 22.48 million had received two doses, according to the ministry.