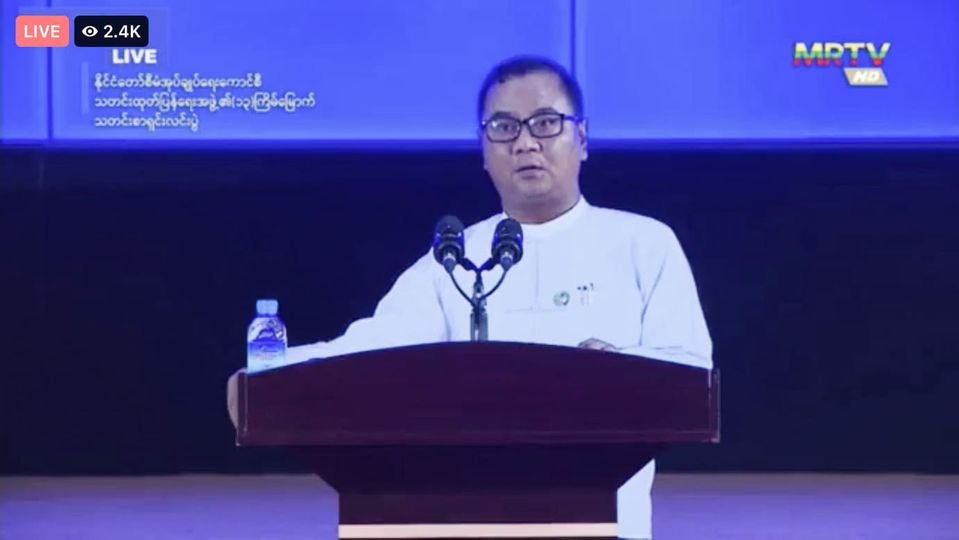 DMG Newsroom
11 May 2022, Sittwe 
Military regime spokesman Major General Zaw Min Tun has chided ethnic armed organisations (EAOs) that so far refuse to attend peace talks proposed by junta chief Senior-General Min Aung Hlaing last month. 
The May 11 issue of Myanmar's junta-run newspapers quoted the regime spokesman as saying: "The fact that they have refused to come for peace shows their attitude toward peace, and civilians and local people." 
Veteran Arakanese politician U Pe Than pushed back on the regime spokesman's passive-aggressive appraisal of the response to Min Aung Hlaing's peace talks proffer, which was delivered in a speech on April 22. 
"His statement reflects their one-sided view. There is no point in doing it hastily. They should consider the position of other parties," U Pe Than said. "In organisations, decisions can't be made by individuals alone. [EAOs] also have to take the wishes of people into consideration. They will also weigh the benefits of attending the meeting. They will make a decision only after taking all the factors into consideration." 
Seven signatories to Myanmar's Nationwide Ceasefire Agreement (NCA) and three non-signatories have registered to attend the talks. 
"Some groups have released statements and said they would not attend. Some groups said they would wait and see because they are still discussing whether or not to attend the talks," said Maj-Gen Zaw Min Tun. 
Powerful EAOs like the Kachin Independence Army and Karen National Union, the latter an NCA signatory, have officially rejected the regime's invitation, saying the proposed talks lack inclusivity. 
"No other stakeholder is more closely connected to peace talks than EAOs. When you say 'all the stakeholders' should be present at the talks, no other group is as eligible as EAOs to attend the talks. As I have said, this is a good time now [for EAOs to build peace]," said the regime spokesman. 
The junta spokesman said the military government intends to start the peace talks as soon as possible, and will settle on a date that is convenient for the attending EAOs. He said the regime guarantees that its vision is for a future Myanmar based on democracy and federalism. 
"Regarding this [a country based on federalism and democracy], we will hold frank talks on their demands. And will continue to work seriously for the peace process to make progress and succeed," he said. 
Seven NCA signatories — the KNU/KNLA-Peace Council, the Pa-O National Liberation Organization, Arakan Liberation Army, Restoration Council of Shan State, Democratic Karen Benevolent Army, New Mon State Party and Lahu Democratic Union — will reportedly attend the talks with Min Aung Hlaing. 
Among NCA non-signatories, the United Wa State Army, National Democratic Alliance Army, and Shan State Progress Party will attend the talks. 
The Three Brotherhood Alliance, a tripartite militant coalition consisting of the Arakan Army, the Ta'ang National Liberation Army and the Myanmar National Democratic Alliance Army, have said they are taking a wait-and-see approach to the proposed peace talks.