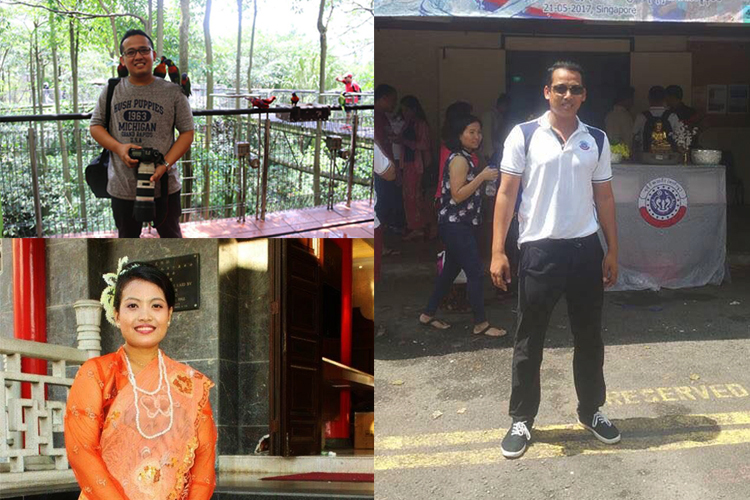 Khaing Min Nyo | DMG
27 July, Yangon

Nine Arakanese accused under a counterterrorism law including the younger brother of the AA's chief Ko Aung Myat Kyaw yesterday were remanded at the Yangon Region's Western District court from 26 July to 9 August.

Since they would reportedly appear in Mayangone Township court, families and Arakanese CSOs were waiting at the township court, but police took them to the Western District court to grant the remand.

The Yangon Region Special Branch of Myanmar Police Force has prosecuted six people from the Arakan Association (Singapore) Ko Aung Myat Kyaw, Ko Tun Aye, Ko Hein Zaw, Ma Aye Myat Mon, Ko Tin Hlaing Oo and Ko Ye Kyaw Htet and three other people Ko Myat Linn Oo, Ko Shwe Hlaing Than and Ko Aung Myo Win under section 52 (a), (b) and (c) of the Counter-Terrorism law, said U Kyaw Myo Tun, lawyer for the nine accused.

Families and lawyers did not see them yesterday. Mother of Ko Hein Zaw, chairperson of the AA-S, said: "My son phoned me and said he was coming. I heard only his voice, I haven't seen him so far. We heard that they would appear in (Mayangone Township) court. I am waiting here to desperately see him, but I didn't see him." 

Four people including Ko Aung Myat Kyaw were arrested in Yangon International Airport while Ko Tin Hlaing Oo and Ma Aye Myat Mon were caught near Nay Pyi Taw on 11 July. Their driver Ko Myat Lin was also apprehended along with them.

The DMG has no information concerning Ko Shwe Hlaing Than and Ko Aung Myo Win's alleged arrests.

The Singaporean government arrested six leaders of the AA-S on 10 July accusing them of providing financial aid for the AA and deported them to Myanmar. Their families claimed that they are providing aid for IDPs in Arakan State, not for the AA.