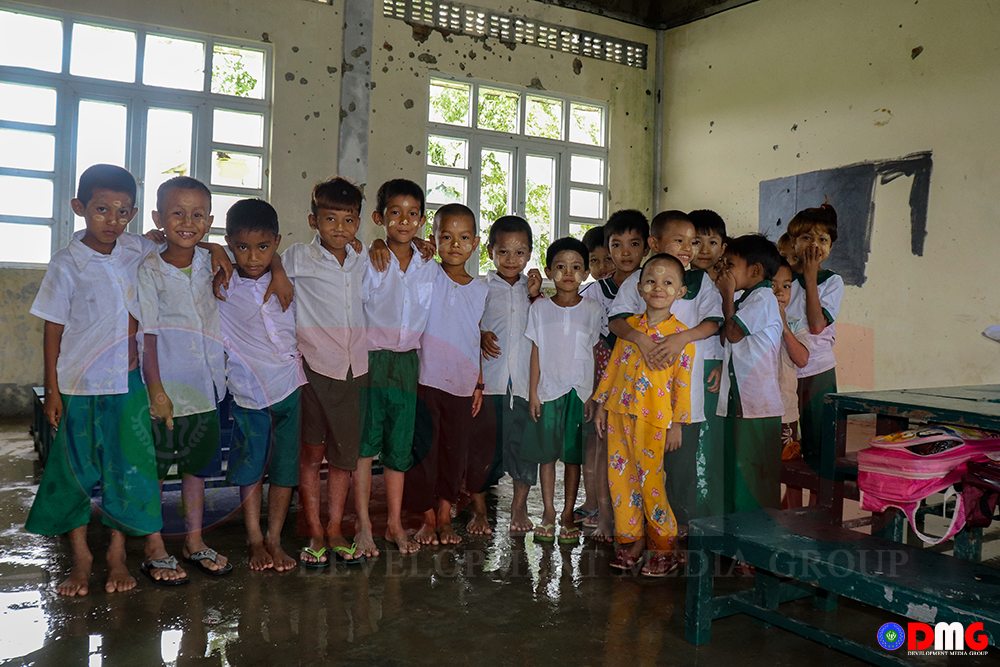 DMG Newsroom
2 October 2022, Sittwe

With numerous school-aged children among those who have fled their homes due to renewed fighting between the Myanmar military and the Arakan Army (AA) in Arakan State over recent months, disruptions to their education are a growing concern.

Thousands of families in rural parts of Buthidaung, Maungdaw, Rathedaung, Kyauktaw, Mrauk-U and Minbya townships have been displaced by the fighting.

Ma Nyein Nyein Win, a Grade 10 student from Yokethar Village in Kyauktaw Township, said she was worried that she would fall behind in learning because she could not attend school due to the military-AA hostilities.

"I can't go to school right now, so I'm afraid that I'll waste time and fall behind in my education. I want to go to school and fighting is ongoing. My family has financial difficulties sending me to school," she told DMG.

There are about 300 students in Yokethar Village. All of the village's residents have fled to safer locations and the village school was temporarily closed after an artillery shell landed and exploded in the village, according to locals.

Residents in Nagara Village, Kyauktaw Township, were also displaced by shelling from the Myanmar military and the village school was similarly shuttered temporarily. There are more than 200 students enrolled in school in Nagara Village this academic year.

As the children cannot return to their villages under the current situation, plans are being made for the students to study at displacement camps, said U Maung Win, the administrator of Nagara Village.

"The students went [fled] with their parents, so we don't know which village they are in," the village administrator told DMG. "The officials of the villages where the displaced people are taking shelter have been told to conduct a survey and send information about IDP students. Plans are being made for the students to study at displacement camps."

About 50 schools in Kyauktaw, Maungdaw, Rathedaung, Mrauk-U and Minbya townships have been temporarily shuttered amid the renewed conflict between the military and AA, according to a tally by DMG.

"Some schools were closed due to fighting and shelling, and teachers were unable to go to schools," said U Khaing Myo Tun, the father of a student from Mingyi Village in Maungdaw Township.

"I worry about my children's education because they don't have an opportunity to go to school due to the fighting," he told DMG. "I struggle to educate my children and teach them myself. It is difficult for me if the children are a year behind in their education."

DMG continues to attempt to contact officials from the Arakan State education officer's office to find out what arrangements have been made regarding students fleeing the fighting of recent months.

Dozens of schools in Arakan State also have yet to reopen after they were closed during previous conflicts in 2017 and 2018-2020.