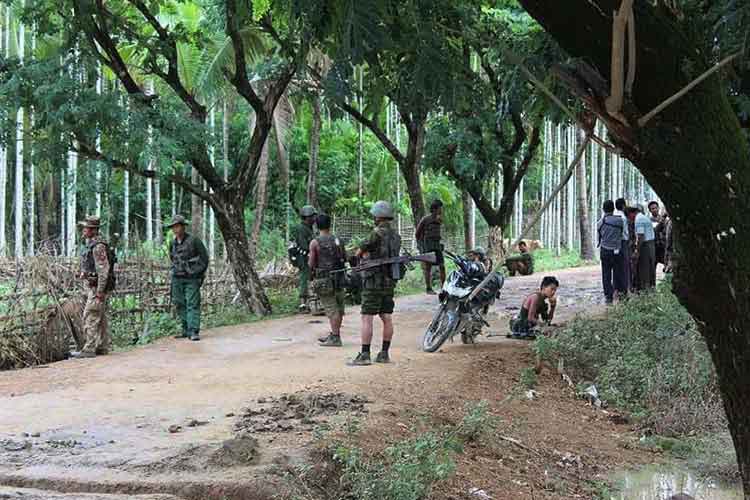 Win Nyunt | DMG
August 13, Sittwe

The Arakan Army (AA) issued a statement against the Myanmar Police on August 12 warning its officers to stop arresting and torturing Arakan people by misusing their authority. The letter also warned the police force not to frighten people or disturb Arakan national activities.

The AA released a similar warning to police on February 8, 2019.  

"The main thing is that police are not doing their jobs, they are arresting and torturing civilians. We released the statement warning them to stop torturing and killing people in conjunction with the Myanmar Tatmadaw before. But they are still doing. That's why we warned them again to stop doing it," said AA spokesperson Khaing Thukha.

The AA also said in its statement that the Tatmadaw was using civilian and police vehicles, as well as cars donated by China Aid, to move troops and weapons. If the AA finds that police are working together with the Tatmadaw or providing support in war zone, the AA said it would respond by fighting back.

He said that police stations were providing assistance to Tatmadaw attacks and helping to shoot heavy weapons. He confirmed that Border Guard Police were also cooperating with the Tatmadaw to attack the AA.    

DMG asked Colonel Kyi Linn, head of Arakan State Police Force about the AA statement, and he replied that he was too busy to reply. Colonel Win Zaw Oo, chief of the Myanmar military's Western Command, also declined to comment.

AA attacked four border guard police forces in Buthidaung Township at the same time on January 4 and Yoe Tayoke police station in Ponnagyun Township on March 9, and Nyaung Chaung border guard police station in Buthidaung on July 26, and some police were killed because of the attacks.