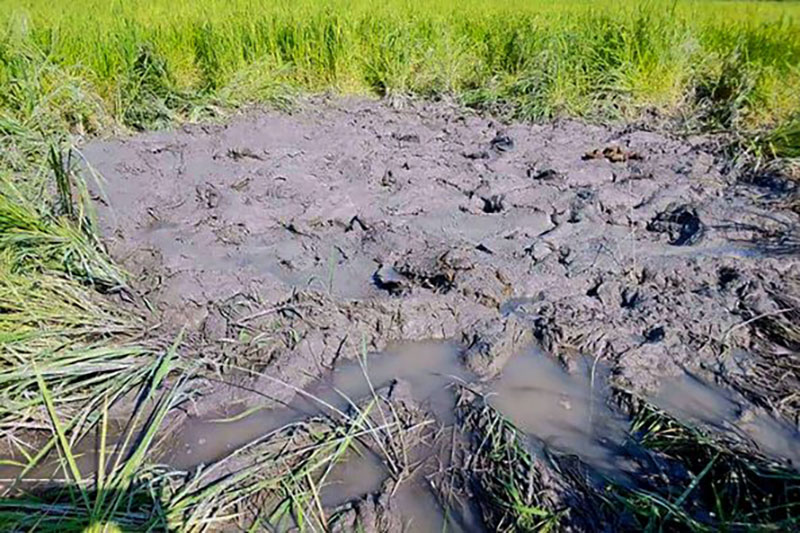 DMG Newsroom
31 October 2022, Maungdaw

Locals from at least four villages in northern Maungdaw Township, Arakan State, have reported that wild elephants are devouring and damaging their paddy fields.

Some 50 acres of paddy fields belonging to Nan Thar Taung Sayadaw, the abbot of the Nan Thar Taung Village monastery, between Nan Thar Taung and Thinbaw Hla villages, were destroyed by wild elephants some three days ago, according to U Tun Hla, a resident of Nan Thar Taung Village.

"No one dares to watch paddy fields at night because of instability in the region," he told DMG. "Herds of elephants come and eat rice at night. Rice plants were also damaged as elephants trampled them."

The monk added: "There are many students learning at the school run by Nan Thar Taung Sayadaw. Those paddy were grown to feed them in case he can't get supplies from donors. But all the rice fields are completely destroyed now. We knew that elephants were eating, but we dared not do anything to scare them away."

About an acre of paddy was also damaged in Tharyargone Village, according to Ko Saw Shwe Maung, a resident of the village.

"They came and ate for two consecutive days at night," he said. "We did not hear them coming from the forest. We only knew after they were eating in the paddy fields. So, we have to watch overnight to scare them away by making loud noises. We are anxious because of the military situation in our area. But we have no choice because we can't afford to lose our rice."

A local farmer in Bandula Village said residents there have hired night watchmen to guard the paddy fields against wild elephants.

"We knew that they would come again after they came for the first time," he said. "We could scare them away by making light and loud voices. Since then, we have hired people to guard the paddy fields at night. Wild elephants normally come and eat ripe paddy at this time."

Wild elephants tend to remain in forests during the daytime and only come out to eat rice at night, according to residents.