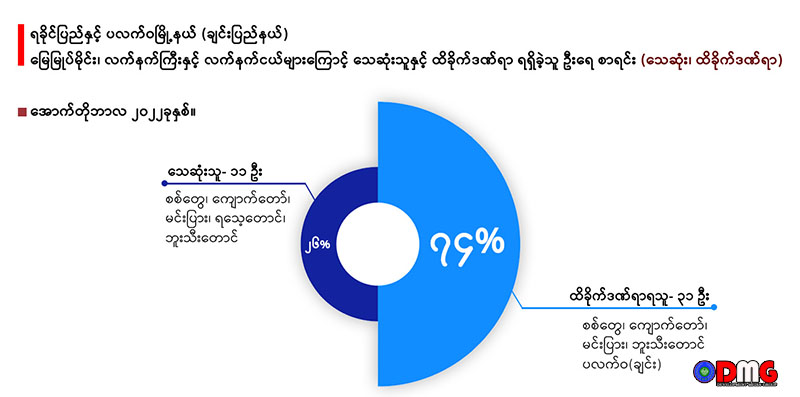 DMG Newsroom
4 November 2022, Maungdaw

Eleven civilians were killed and 31 others were injured in shooting incidents and landmine explosions in Arakan State and neighbouring Chin State's Paletwa Township last month, according to a DMG tally.

Those killed were from Minbya, Kyauktaw, Buthidaung, Rathedaung and Sittwe townships. Seven of the victims were females and four were males. Of them, seven women and two men were killed by artillery strikes, while two other men, Muslims from Buthidaung and Sittwe, were killed in shooting incidents.

Among the 31 injured people, 12 were females and 19 were males, who were from Minbya, Kyauktaw and Buthidaung townships.

Seven of the injured were children — one was injured by a landmine, four were hit by artillery shells, and two others were hurt by drone attacks.

Twenty-four others injured were adults — two of them were injured by landmines, 14 others were struck by artillery, seven by stray bullets and one by drone attack.

According to the DMG tally, the number of male casualties was 23, and female casualties was 19.

One Minbya resident said: "We are increasingly anxious about artillery strikes, and have been going through sleepless nights for fear that shells may land on our house while we are sleeping. And we can't stay in bomb shelters throughout the day. So, we can only accept our fate."

Civilian casualties have been on the increase since fighting flared anew in August between junta troops and the Arakan Army.

Three people were killed, and 23 others were in injured in landmine blasts in Arakan State and Paletwa Township in September, according to DMG reports.