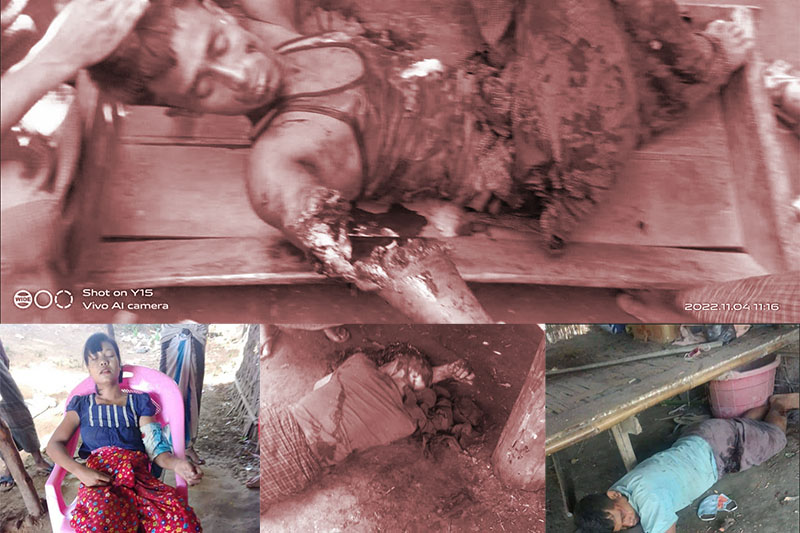 DMG Newsroom
8 November 2022, Sittwe
Civilian casualties have been on the rise amid the renewed fighting between Myanmar's military and the Arakan Army (AA) in Arakan State and Chin State's Paletwa Township over recent months. But even as they grieve and take stock of their new realities, the injured and family members of the deceased are feeling the financial strain of unexpected hospital costs and lost breadwinners. 
Four civilians were killed, and 19 others were injured by artillery strikes across multiple locations including Shwe Pyithit Village in Kyauktaw Township on Friday. Some of those injured are still receiving treatment and need to pay medical bills. 
"Except the Phyu Sin Metta charity, none of the social organisations are providing help for them. The injured need money to pay medical costs. And those whose houses were damaged [by artillery strikes] also need money to repair their houses," said the administrator of Shwe Pyithit Village. 
A Muslim man from Let Saung Kaung Village who had his right hand amputated after being hit by shrapnel Friday is receiving treatment at Sittwe Hospital, and his family is struggling to pay his medical expenses. 
"His hand had to be amputated at Kyauktaw Hospital," said a resident familiar with the situation. "He was then transferred to Sittwe Hospital due to [the severity of] his injury. His wife has had to borrow rice from neighbours and sell it to pay for his medical costs." 
A villager from Peinne Chaung who was seriously injured on November 4 is also struggling to pay his hospital bills. 
"A piece of shrapnel penetrated his right shin, and he had to take an X-ray to assess the damage caused to muscle and bone," said a fellow Peinne Chaung villager. "It will cost a lot. Their household income is not very good. So, they have difficulties." 
Meanwhile, family members of those killed as a result of the ongoing conflict are also struggling to make ends meet. 
In Kyauktaw Township's Wet Hmine Village, an elderly couple is experiencing hardships after their only daughter was killed Friday by an artillery strike. Their only son died in July after stepping on a landmine. 
"We were totally dependent on our daughter and son. And our grandchildren are not yet old enough to work and earn income for the family. For the time being, we are feeding ourselves with money donated by a Buddhist monk. And no one else has come to help us," said the bereaved mother, Daw Aye Sein Phyu.
Twenty-one civilians were killed and some 70 others have been injured since fighting flared anew in August, according to a DMG tally.