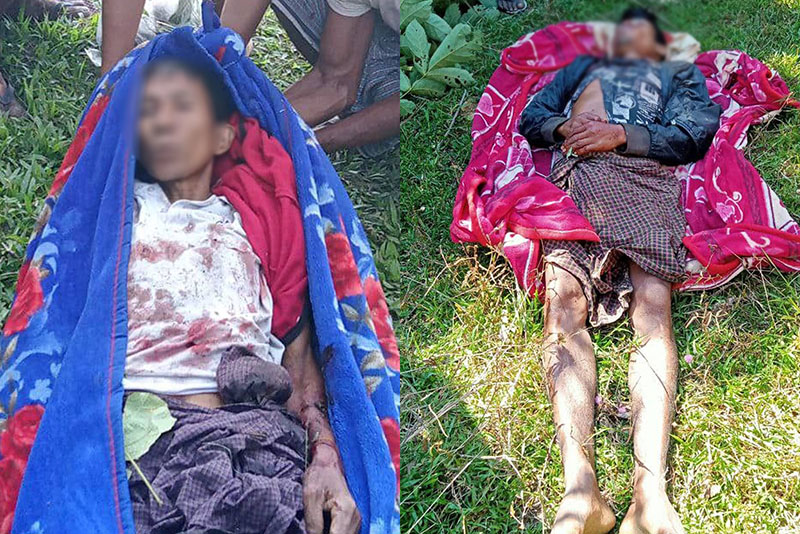 DMG Newsroom
11 November 2022, Ponnagyun

Two men were killed by an artillery strike in Diparyon Village, part of Arakan State's Ponnagyun Township, on Friday morning, according to local residents.

The victims have been identified as U Aye Soe Thein, 41, and U Kyar Chay, 60. U Aye Soe Thein sustained fatal shrapnel wounds to his right arm and U Kyar Chay lost his left leg.

The two men were hit by an artillery shell fired by the military's Ponnagyun-based Light Infantry Battalion No. 550 while herding their cattle outside the village. U Aye Soe Thein was pronounced dead on the spot and U Kyar Chay died en route to hospital, villagers said.

"The military's LIB No. 550 fired at least four artillery shells into the village at about 7 a.m. today. The two men were killed by shrapnel after one of the artillery shells landed and exploded near the village," a resident of Diparyon Village said.

Arrangements are being made to bury the two men killed by Friday's artillery strike, according to local villagers.

The military fired heavy weapons into Diparyon Village without there being fighting between junta forces and the Arakan Army in the vicinity, said locals, many of whom feared more junta artillery strikes.

"Almost half of the village's population has fled to nearby villages in fear," said a local woman from Diparyon Village. "We remain in the village and stay in our home. We dare not herd our cattle for the time being."

DMG attempted to phone Major-General Zaw Min Tun, spokesman for the military junta, regarding the matter, but he could not be reached.