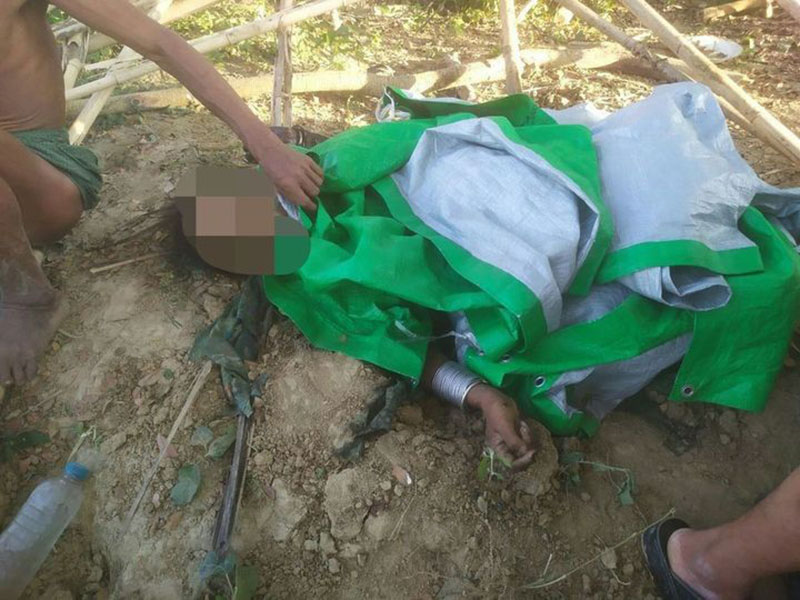 DMG Newsroom
12 November 2022, Maungdaw

An ethnic Mro woman from Jeitchaung Village, part of Arakan State's Maungdaw Township, was killed in a landmine blast on Friday evening, according to local villagers.

The 45-year-old victim has been identified as Daw Ma Hsar Hto. She was killed after stepping on the landmine about two miles from Jeitchaung Village while she and her husband were going to their farm at about 4 p.m. on November 11, a community elder told DMG.

"When they arrived at their farm, her husband remained in the field, but she stepped on a landmine while going to the hut. She was severely injured in the landmine explosion, lost her left leg, and died later," he explained.

Arrangements are being made to bury Daw Ma Hsar Hto at the village cemetery, according to residents.

A clash broke out between the Myanmar military and Arakan Army near the village on September 12, said locals, who noted, however, that this is the first time a landmine blast has occurred near the village.

"Previously, there was no landmine explosion near the village. Residents are concerned for their safety following the landmine encounter near the village. Almost all residents rely on farming and fishing for their livelihoods," said a villager.

At least 52 people were killed by artillery fire, landmines and other conflict-related violence in the three months from August to October amid renewed fighting between the military and AA in Arakan State.