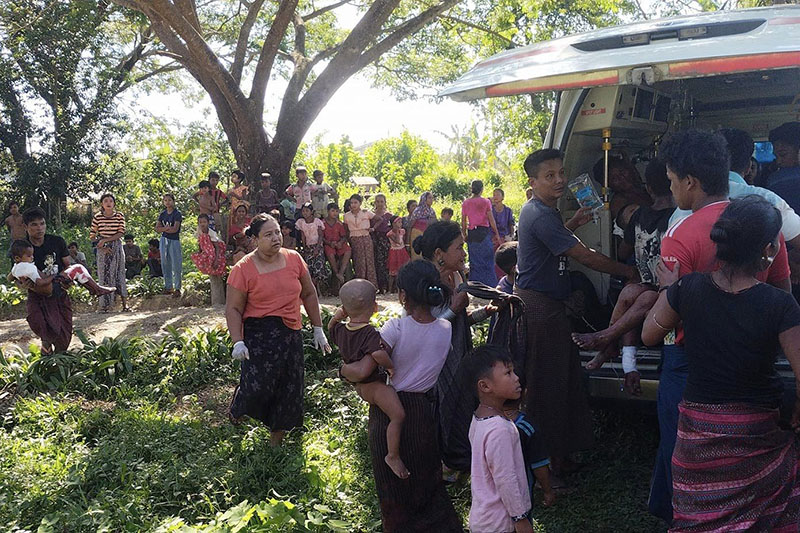 DMG Newsroom
24 November 2022, Maungdaw 
A six-month-old baby girl from Jeitchaung Village, Maungdaw Township, who was severely injured by mortar strikes on November 16, succumbed to shrapnel wounds at Maungdaw Hospital on November 22. 
The infant was wounded by military artillery strikes in the village on November 16. 
"She died at Maungdaw Hospital at around 6 p.m. on November 22. She received severe shrapnel wounds to her legs," Maung Ye Lin Naing, a relative of the victim, told DMG. 
Her body was buried at Maungdaw Myoma Cemetery on Wednesday. 
Family members of the child have returned to the village and the home damaged by the shelling is being repaired, Maung Ye Lin Naing added. 
Maung Aye Yaung, an elder brother of the victim, was also admitted to Sittwe Hospital on November 17 due to serious shrapnel wounds, and is currently in need of financial assistance to pay for his treatment. 
The infant's death brings to 13 the number of residents who were killed after three mortar shells struck Jeitchaung Village on November 16. Twenty-four others were injured in the artillery strikes. 
Jeitchaung villagers have accused military personnel stationed at security checkpoint No. 24 in Kyeinchaung Village and the local Border Guard Force of firing the mortar shells at the village. 
On November 17, however, the military rejected those allegations, announcing that "the deaths and injuries were caused by AA's irrational firing," referring to the Arakan Army. 
In a statement on November 16, the AA denied any involvement in the shelling, and vowed revenge for regime artillery strikes targeting villages, calling them war crimes.