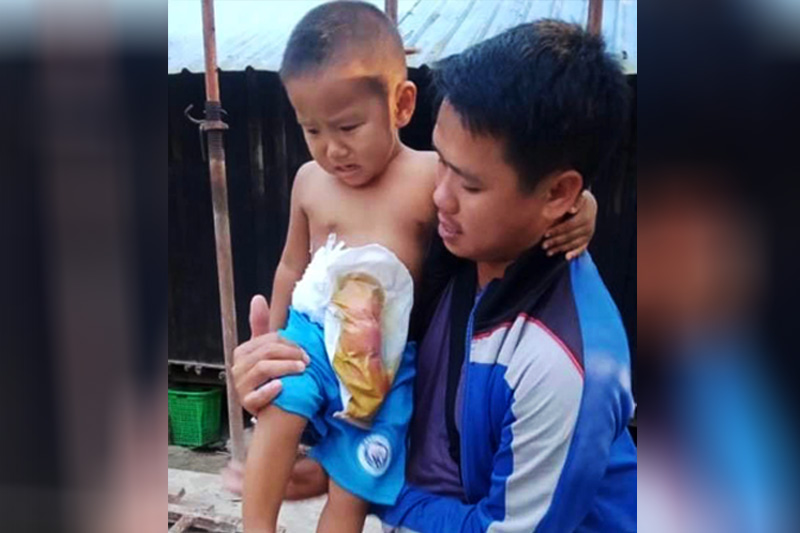 DMG Newsroom
21 January 2023, Buthidaung
The parents of a baby born with a rare medical condition in Arakan State's Buthidaung Township are in need of financial assistance to cover the costs of his surgery.
The boy, Maung Htet Myat Aung, underwent a surgery at the Sittwe People's Hospital in 2020, when he had a colostomy bag attached to his intestines so that he could defecate. He was born without an anus, a condition known medically as an imperforate anus.
The family has been in contact with Pun Hlaing Hospital in Yangon for a follow-up surgery, but the costs of the procedure are beyond their reach, said Ko Hla Maung, the father of Maung Htet Myat Aung.
"We have been in Yangon for around 18 days. We stayed at a monastery. Finally, Pun Hlaing Hospital has agreed to treat my son after some four or five hospitals rejected us. The colon would be put back into the abdomen. The doctor said the surgery would cost around 6 million kyats," he said.
The family cannot afford the surgery costs despite selling their house in Buthidaung's Ganaru Village to treat Maung Htet Myat Aung.
The colostomy bags that Maung Htet Myat Aung currently uses to defecate costs 8,500 kyats per bag, and needs to be replaced every 36 hours.
"Including travel costs, colostomy bags cost us around K300,000 a month. When [the Myanmar military] imposed travel restrictions, we could not buy new bags, and were forced to use cotton," said the father.
Ko Hla Maung said he is concerned that his son could suffer an infection if his condition is not addressed over the long term.
"When my son cries, the intestine comes out an inch. It goes back in when he stops crying. I am concerned that he might fall while he is walking, and in that case, the colon might protrude and get harmed or infected," he said.
Maung Htet Myat Aung's parents earn a living selling vegetables in Ganaru Village, where the residents are ethnic Khami people.
Those wishing to contribute to the surgery can donate cash to Ko Hla Maung, who can be reached at 09-456385039.