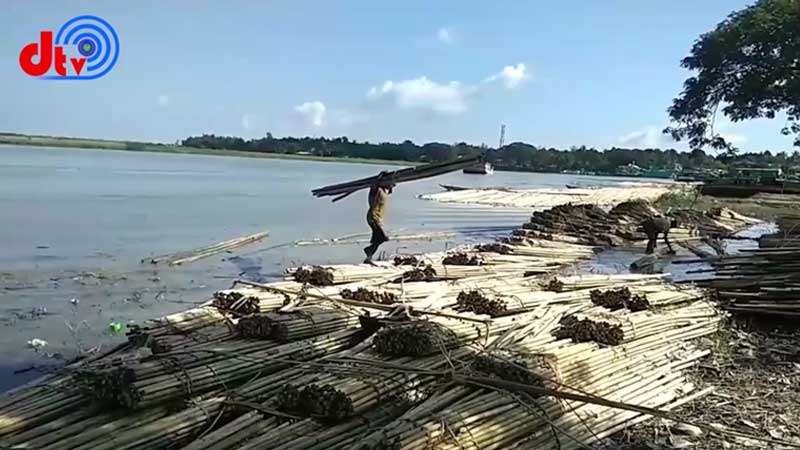 Cha Lu Aung | DMG
6 October, Maungdaw
 
Bamboo entrepreneurs face difficulties because they cannot easily obtain bamboo from Saidin Mountain Range due to clashes between the Tatmadaw and Arakan Army in Buthidaung Township, Arakan State, said people who work in the bamboo industry.
 
"Local people who run bamboo-related businesses encounter many problems because they purchase necessary bamboo from other locations through the Laymyo River," said Ko Zaw Naing Oo, Chairman of the township bamboo entrepreneur's association.
 
"We face many difficulties to operate our business smoothly. We cannot sufficiently attain bamboo in the region. So, we buy bamboo from Mrauk-U via the Laymyo River. The bamboo industry isn't a very profitable business for us," he added.
 
Local people are not allowed to go to Saidin Mountain Range to collect bamboo due to security reasons as fierce fights between the Tatmadaw and the Arakan Army (AA) have been intensifying in Arakan State since December 2018.
 
Raw bamboo is laboriously transported to Maungdaw Township from Mrauk-U Township through the Laymyo River, Mamad Zi Arloung, a bamboo entrepreneur said.
 
Demand for bamboo products has declined in Maungdaw District after many people left the region as a result of an outbreak of violence in 2017. Presently, local bamboo entrepreneurs in Maungdaw District are facing challenges due to armed conflicts between the Tatmadaw and Arakan Army (AA).