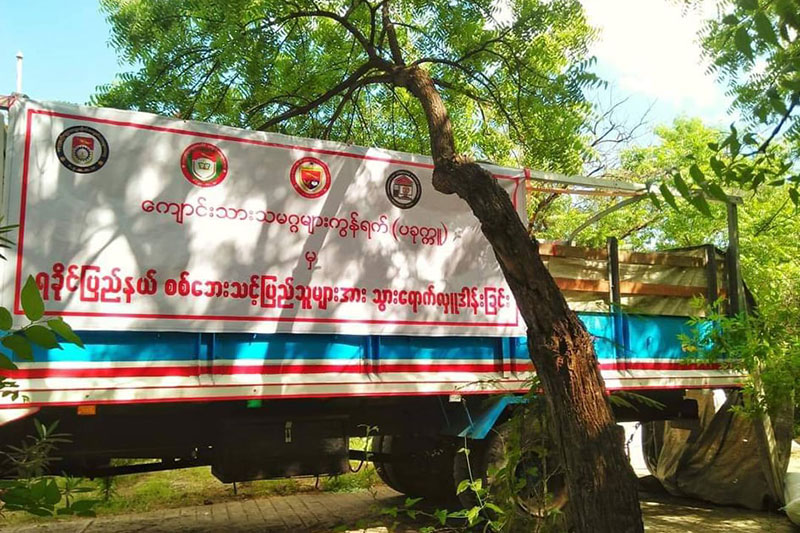 Win Nyunt/DMG
October 21, Sittwe
The student union group, which came from Pakhoku to provide food supplies at IDP camps in Arakan State, said that they were stopped by the State government in Minbya for reasons of national security.
The Pakhoku student union group arrived in Ann on October 18 and was stopped by the authorities but was later allowed to continue traveling because of intervention by the State Hluttaw. On October 20 when the group arrived in Minbya, they were stopped for a second time.
"We cannot go anywhere we want. We aren't allowed to travel to IDP camps because of national security, so we were stopped," Salai Banbie Hnisar, Chairperson of Chin Students Union (Pakhoku) told DMG.
He added although they wished to go to IDP camps and donate relief aid, they had to hand over all their supplies to a civil society organization based in Minbya because of the obstacles by the government.
"We heard that refugees are facing difficulties getting food because the donors aren't allowed to donate food directly. Government said that they provide the assistance but people said that they don't receive any assistance from the government. So the information we have received from the government and locals is quite different. That's why we feel very sorry for not having an opportunity to distribute food in the camps directly," he said.
The State government doesn't allow any INGOs and NGOs because of security reasons. Only the International Committee of the Red Cross (ICRC) and World Food Programme (WFP) can travel to the townships where IDP camps exist. But the Arakan people would like to see the IDPs receive assistance more openly.