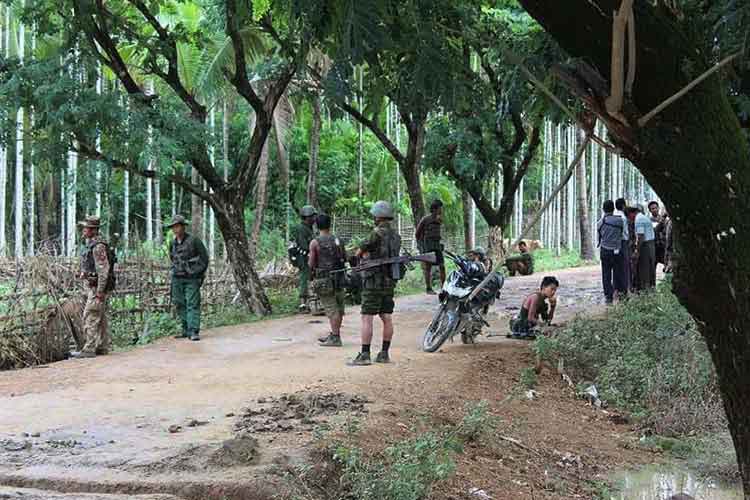 Win Nyunt | DMG
12 November, Sittwe
 
The Tatmadaw entered Ywar Thar Yar village in Myebon Township to check houses and detained five villagers, local residents said.
 
Members of the Tatmadaw arrived at the village on the morning of 10 November at about 6 a.m. and checked village houses, said an anonymous villager.
 
"About 100 soldiers entered the village and blocked the entrance and exit of the village. Then, they raided houses. Five villagers have been taken by them so far," the unidentified villager told the DMG on the morning of 12 November.
 
U Maung Tin Nyunt, 41, U Maung Hla Myint, 37, U Tin Maung Nyunt, 37, U Khin Maung Lay,48 and U Tin Myint,46, were abducted by the Tatmadaw on suspicion of having connections with the Arakan Army.
 
The villager said that he did not know where the detained people were taken.
 
"They left the village this morning [November 12] at about 9 a.m. and they were watching villagers near Yaw Chaung Bridge. There's only one exit in the village," the villager said.
 
The DMG phoned Colonel Win Zaw Oo from the Western Command to seek for comment about the incident, but he was unreachable.
 
Over 200 people from conflict affected areas in Arakan State have been detained by the Tatmadaw under suspicion of involvement with the AA, according to the figures of Arakan civil society organizations.