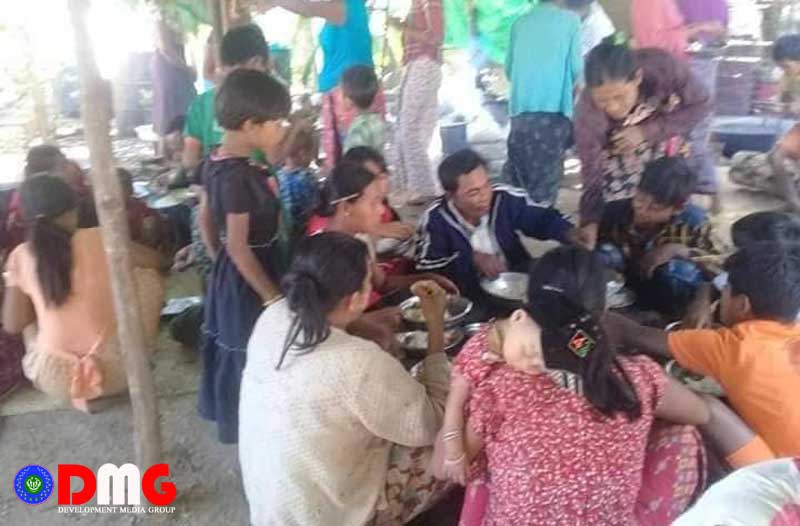 Khaing Min (Kyauk Phyu) | DMG
26 November, Kyauk Phyu
 
More than 600 internally displaced persons (IDPs) who are taking shelter in Rakha Wuntha Foundation refugee camp in Kam Htaung Gyi town, Myebon Township, are in dire need of food and clothing including mosquito nets and blankets.

The refugee camp was open on 19 November and management of the camp provides them food by collecting donation money from the wards in Kam Htaung Gyi town, said U Than Win, manager of the Rakha Wuntha Foundation refugee camp.

"We cook food for them. The number of IDPs has increased day after day.  So, we need more donations to be able to provide enough food. And they need mosquito nets and blankets because the night temperature is colder now," U Than Win said.

Children, pregnant women and elderly need health care services, he added.

"It is getting cold now. So, elders and children can't stand the cold weather. Authorities have not yet provided any aid so far," he said.

They fled from Inn Gyin, Hin Kha Yaw, Taung Pauk and Nyaung Kan villages during the Tatmadaw's helicopter strike in Myebon Township.

The fighting between the Tatmadaw and the AA in Arakan State has been ongoing for one year, increasing the number of IDP camps to over 70 and the number of refugees to over 92,000. There are about 900 IDPs in Myebon Township alone.