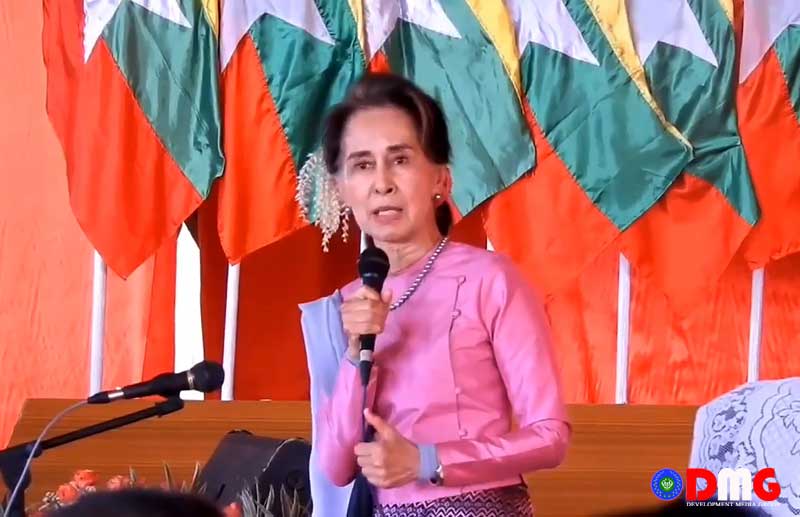 Phadu Tun Aung and Aung Kaung Zaw | DMG
19 December, Sittwe

State Counsellor Daw Aung San Suu Kyi used a recent speech to ask whether it was necessary for non-state armed groups to continue to hold arms and engage in violent conflict with the government when national and regional legislatures now exist for these groups to achieve their aims.  

In her 19 December remarks at the opening ceremony of a power plant in Kha Ohn Maw village, Manaung Township, she also insisted that the existence of a structured peace process was further reason to turn away from militancy.

"Political dialogues are emerging now to set basic policies to build a democratic federal Union in line with the wishes of all people in Myanmar. At this time, does it really require the use of violent means, which harm people?" asked Daw Aung San Suu Kyi.

The State Counsellor praised as "courageous" those who chose nonviolent avenues to achieve their goals, adding: "It needs to be considered carefully whether it will result in the lowest level of harm for all sides if we demand our wishes politically."

Only when the region is stable and peaceful will infrastructure and development projects be implemented successfully, she insisted.

"If there is no peace and regional stability, it is difficult to carry out infrastructure development, and also large investments will not be received. Investors will come only if they get benefits. If not, they don't want to come," she said.

Three bomb blasts occurred near Nga Inn village within hours of the State Counsellor arriving in Manaung Township for the power plant christening. Police are working to determine who was responsible for the explosions, which the Arakan Army has denied.

Armed conflict between the Tatmadaw and the AA has been intermittent for years, and saw an uptick in December 2018. In the months since, there have been scores of civilian casualties and tens of thousands of people displaced.