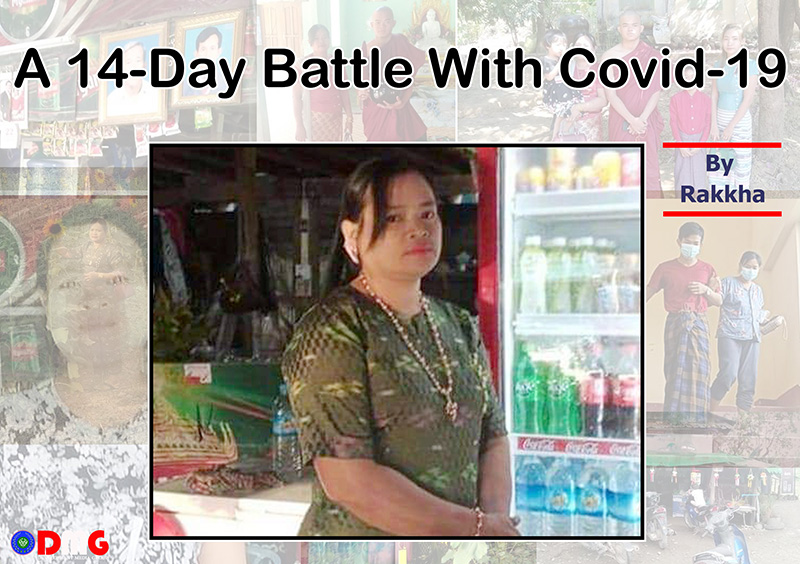 By Rakkha 
Daw Pu Ni was waiting to see the doctor at the Thamardaw Clinic. The clinic was full of patients, as usual. 
She was waiting her turn, wondering when she could see the doctor. By about 8 p.m., she started feeling shortness of breath. Even just sitting, whenever she tried to draw breath she ended up feeling chest and back pain. 
As time passed, she had more difficulty breathing and almost fell off the chair she was sitting on. 
Daw Pu Ni called a phone number she had, trying hard not to lose consciousness. She called the number of the Shin Than Yay volunteer youth group, and an ambulance arrived outside the clinic shortly after she called them. Fading quickly, Daw Pu Ni only remembers the voice of her son calling her name, and the sound of a siren from the ambulance, before she lost unconsciousness. The day was July 1, 2021, when Daw Pu Ni became one of thousands of Myanmar people diagnosed with Covid-19 each day amid the virus's third wave. 
"At first, I didn't know that I had been infected with Covid-19. … I didn't know what had happened for a period of time. When I became conscious again, I was at the Covid-19 patient ward and was being supplied with oxygen. Then, I knew that I was infected," Daw Pu Ni recalled. 
She said she tested positive for Covid-19 after being sent to the local hospital by the Shin Than Yay volunteer youth group, and was immediately admitted to the Covid-19 ward. Because there were only two other Covid-19 patients at the hospital at that time, she did not experience the shortages of oxygen reported elsewhere in Arakan State and the country at large, but did have to buy her oxygen. 
She said it cost her about K100,000 ($61) per day as she went through three to four oxygen cylinders daily. 
Daw Pu Ni suffers from diabetes and heart disease, two underlying conditions associated with more severe cases of Covid-19. Her blood sugar level rose to dangerous levels for three consecutive days after being hospitalised. 
She recovered slightly on the fourth day, but then began experiencing symptoms of amnesia, with memory loss to the point that she could not even recall where her own home was.  
Covid's Third Wave  
Like much of Myanmar, Arakan State has been hit hard by a deadly third wave of Covid-19. Thousands of positive cases have been detected across every township in Arakan State, and the death toll had surpassed 300 by mid-August. 
As the number of patients diagnosed with Covid-19 has increased daily at hospitals across the state, there have been difficulties treating the infected. Many patients who end up hospitalised need supplemental oxygen, which has been in short supply.  
The lack of adequate medical oxygen supplies has been cause for concern and criticism. Daw Pu Ni had access to oxygen that many other patients in the state have not had. 
Self-help oxygen plants have been built or are under construction in every Arakan State township in an effort to address the oxygen shortage. 
Only 37 people died in Arakan State during the first and second waves of Covid-19 last year, but as of August 19 of this year, 358 people in Arakan State had died with the disease during the ongoing third wave, which began in June. In Taungup Township, at least 64 people have died with Covid-19, the second-highest fatalities figure for townships in Arakan State after only Sittwe. 
"New patients came every day while I was in the Covid-19 ward for a week," said Daw Pu Ni, who received treatment at Taungup Township's 100-bed hospital. "Covid-19 patients filled the beds within days. As there were no longer beds for new patients, I was discharged from the hospital to recover at home. They gave me medicines for 10 days." 
'I Didn't Give Up' 
Daw Pu Ni said she did not know how she had been infected. Fortunately her 20-year-old son, who cared for her, did not appear to get infected, she added.  
Daw Pu Ni is a 50-year-old widow. Her husband, U Ko Tu, passed away about three years ago. Currently, she runs a restaurant along with her two sons, who are both in their 20s. She said the restaurant has been closed since she fell ill.  
At present, Daw Pu Ni considers herself recovered, but she is still weak and cannot talk too much or do strenuous work. Nevertheless, this 50-year-old fought the disease for 14 days — with two comorbidities no less — and conquered it.   
"I think many people assume that they will die soon after being infected. So, they don't try to fight against the disease and give up," she said. "I have both diabetes and heart disease. My lung function is not very good. However, I didn't give up. What is most important is our way of thinking."