Arakanese Lives Upended on Outskirts of Yangon
Corrugated sheets and scrap metal were scattered on the ground. So was other debris from houses, as if they were blown over by a storm.
By Admin 07 Apr 2023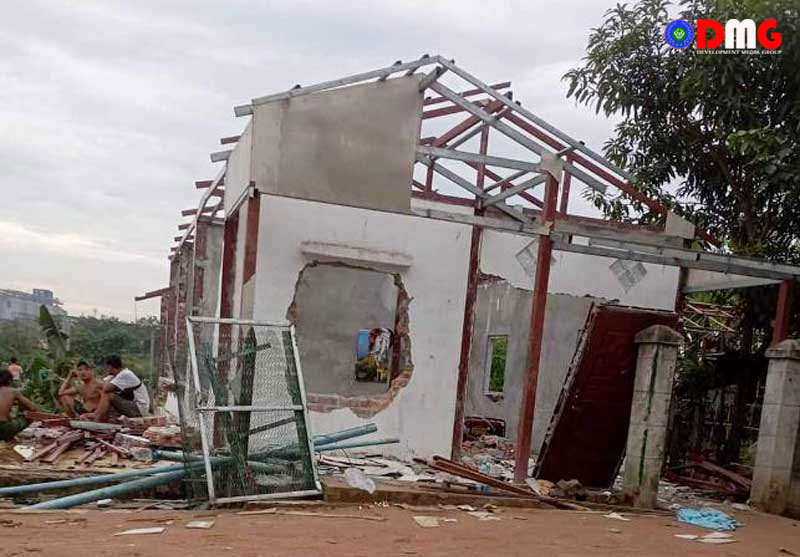 Written by Myo Chay
Corrugated sheets and scrap metal were scattered on the ground. So was other debris from houses, as if they were blown over by a storm.
Some people were scavenging debris. This place used to be a crowded ward known as San Thamardi in Yangon's Mingaladon Township. But more than 10,000 residents from 1,422 households there were made homeless overnight when Myanmar's military government labelled them squatters.
U Aung Kyaw Tun, who is originally from Arakan State, was among those whose houses in San Thamardi Ward were demolished.
"My life was turned upside down, and I have nothing now," said the 40-year-old man.
U Aung Kyaw Tun is a native of Yarchaung Village in Arakan State's Myebon Township, and moved to Yangon together with his family in 2008. Initially, they rented a house and did casual jobs as they began a new life in Yangon.
They eventually bought a land plot measuring 20x60 feet in San Thamardhi Ward, using their savings from years of hard work and money they got from selling their house in Yarchaung Village. They managed to build a house with a concrete floor and bamboo matting walls, at a time when it was difficult for internal migrants to own a house in the commercial capital Yangon.
U Aung Kyaw Tun still cannot believe his years of hard work were demolished overnight.
"At the time, our children were still young, and we bought the house by saving up our wages," he said. "The house and the land is worth around 20 million kyats at the current market price. I have been living here for more than 10 years. We are in despair."
The regime issued an eviction notice ordering San Thamardi residents to vacate by November 21, 2022, or face legal action, saying they were squatting on land designated for the Pyinmabin Industrial Zone, owned by the Defence Ministry.
At around noon on November 26, five days after the notice was issued, around 200 junta soldiers, police, government employees and hired hands began to demolish the houses in San Thamardi, assisted by four backhoes. When all was said and done, more than 10,000 people were left homeless.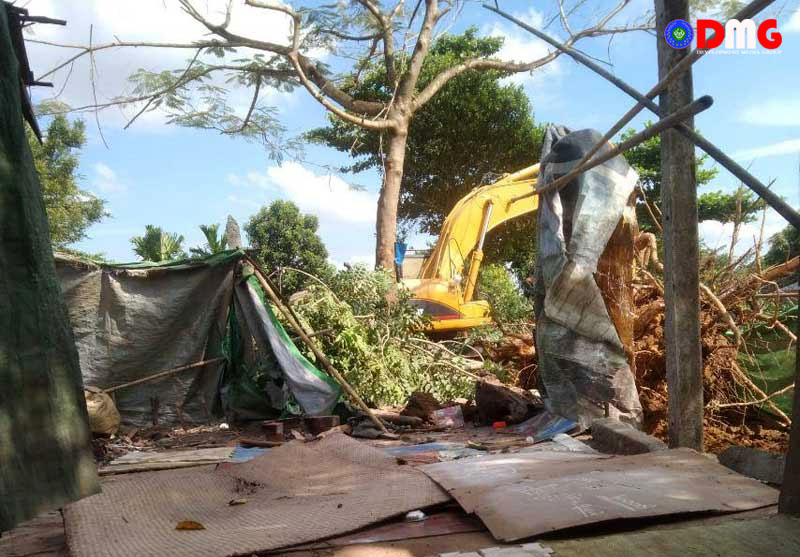 About 4,000 of them are originally from Arakan State. Daw Sandar Aye, whose house was demolished, said she feels weighed down by uncertainties after her life so dramatically changed, going from house owner to homeless.
"I have only lived in this house for two years after building it … and I don't know how long I will have to save money again to buy a house again," she said.
Among the buildings demolished were brick houses, monasteries and nunneries.
The Arakanese contingent had moved to Yangon from Sittwe, Kyaukphyu, Ramree, Ponnagyun, Kyauktaw, Mrauk-U, Minbya, Rathedaung and Myebon townships. Some have been living in Yangon for more than a decade.
In the aftermath of the demolition, some of the displaced have moved to other wards in Mingalardon Township, or neighbouring Thingangyun or Hyaukkyant townships, while others now live in makeshift tents by the roadside.
U Maung Shwe Tin, an ethnic Arakanese man, said that since his home was demolished, he was worried about his family's livelihood and his children's education.
"I have faced many difficulties and I wouldn't be able to make a living by selling firewood. My eldest daughter is not old enough to work and my son is a disabled person. My youngest son is a Grade 7 student and he has to go to school a long way from home. If I don't have any income, I won't be able to send my children to school next year," he lamented.
The evictees insist that they were not squatting, and rather were living on land plots bought legally.
Post-coup Myanmar has seen a marked uptick in homes destroyed by the military regime on the grounds that the structures are illegal dwellings aka squats. Those evicted from their homes are facing all kinds of hardship due to the high prices of goods and scarce employment opportunities, two features of the post-coup economy.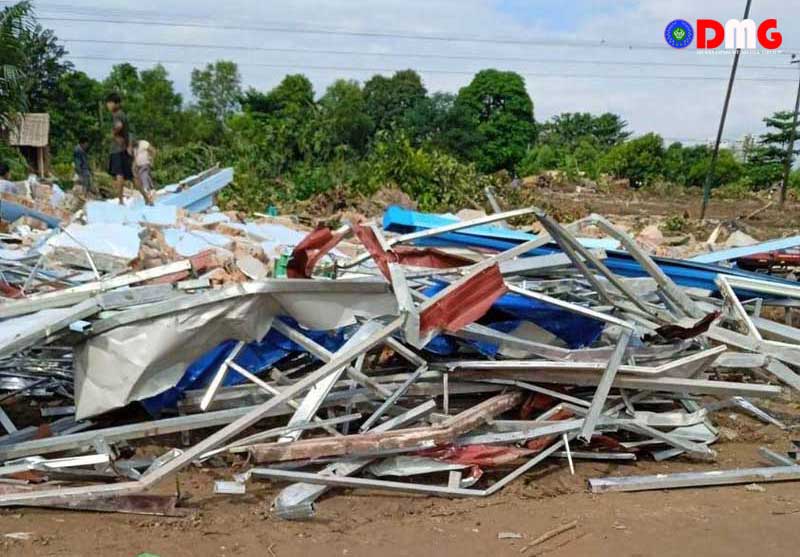 Ko Thant Zin, one person affected in Mingaladon Township, said lives are at stake.
"The military regime is doing what they want to do to the people. While people are suffering due to rising commodity prices, the military regime accuses them of being illegal squatters and destroys their homes. I don't have a house anymore and am in trouble," he added.
Even if the Arakanese evictees were to return to their native towns and villages, chances are there would be no "home" to go back to, and no job to provide an income.
With his home in Yangon now gone, U Aung Kyaw Tun said the questions of how and where to begin anew are daunting.
"I don't know where to start my life," he said. "The more you think about it, the more difficult it becomes."