Facing Transport Woes, Rural Buthidaung Communities Raise Healthcare Concerns
By Admin 26 Jul 2023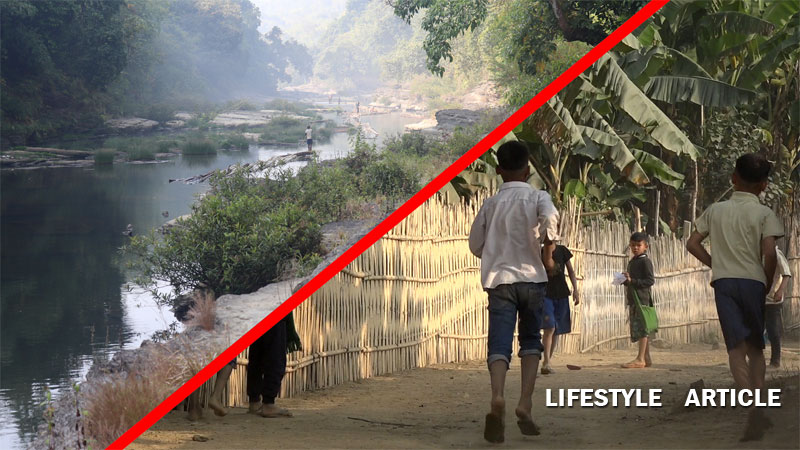 Written By Myat Swe
A man was lying in a tiny room wrapped in several layers of blankets, moaning and groaning. Beside him was a woman crushing herbs with a pestle in a small mortar.
U Khine Maung Win, a man in his 50s, had been sick for a few days, and he had to treat himself at home as there is no healthcare facility in his village, Thalu Pya, upstream of Sai Tin Waterfall in Buthidaung Township. Thalu Pya is a small, underdeveloped village with more than 100 people in some 30 households.
He makes a living by cutting bamboo in the Sai Tin mountains. He also works on a farm occasionally.
"Most of the people here make a living by cutting bamboo. We sometimes get sick and suffer muscle pain as we have to carry bamboo down the mountain almost every day. However, we have no medicine here," said U Khine Maung Win.
"Here, if a person is very sick, he might die if he can't arrive at a hospital or clinic in time," he added.
Apart from Thalu Pya, at least a dozen other villages upstream of Sai Tin Waterfall have no access to proper healthcare facilities due to poor transportation networks.
The villagers have almost no access to modern medicine, and they mainly rely on herbal plants when they become sick.
"Here we have to work every day to eke out a living. We can't afford to open a pharmacy," said U Khine Maung Win.
It costs around 100,000 kyats to travel to Buthidaung town to see a doctor, exclusive of other expenses. So U Khine Maung Win, who only earns 5,000 kyats for cutting and carrying down bamboo for an entire day, dares not dream of seeing a doctor in the town.
U Oo Kyaw Sein, a resident of Letpankaing Village, said it is a long and risky route to travel from his village to Buthidaung town to stock up on food and necessities for the rainy season.
It starts with a two-hour boat ride along a stream, and a one-hour walk along the sloppy, rocky path to Saidin Waterfall, which is about halfway from his village. From there, he has to take another boat ride and bus ride to get to Buthidaung. The path is tough and it takes hours to get to Buthidaung, said U Oo Kyaw Sein.
The boat ride from Letpankaing Village to Saidin Waterfall costs 30,000 kyats. It costs 40,000 kyats for another boat ride from the waterfall to Sai Tin Jetty in Buthidaung Township. The bus ride from the jetty to the town costs another 30,000 kyats.
"It takes hours to get to the town. It is dangerous to travel to the town, especially when it rains. I might slip into potholes on the road," said U Oo Kyaw Sein.
Residents of Awrama village-tract have to work harder in the hot and cold seasons so as to be able to afford stocking up on food in town to be saved for the rainy season. They can't travel to town in the rainy season because of mountain torrents and other conditions that make the route dangerous if not impassable for the monsoon part of the year.
During the rainy season last year, a man from Thalu Kyun Village and a woman from Aurama Village went to see a doctor in Buthidaung town. Unfortunately, both died on the way due to a long and exhausting trip.
"Every year, at least one person in the village gets sick and dies. The main reason is the lack of medicine," said U Maung Hla Thein, an elder in Thalukyun Village.
Ma Ma Hla Oo in Chaungmyay Village is a mother with an 8-month-old baby boy. She explained how she gave birth to her first child despite her life being in danger.
"When my son was born, it rained a lot. My stomach hurt so much that I couldn't give birth, so my relatives planned to send me to a hospital in downtown Buthidaung. The journey was not good, and I had to give birth to my son in the village in danger," she explained.
Residents from some of the most remote villages have to travel through forest to reach Buthidaung town, and face the situation of spending a night somewhere on the way.
"A government can improve transportation," said U Aung Thaung Shwe, a former Lower House lawmaker for Buthidaung Township. "Locals are facing difficulties because the governments of the ages have not improved transportation. Successive governments that have ruled have always neglected rural development. The far-flung rural areas are the areas that have been neglected by successive governments."
Students in the villages of the Aurama village-tract are also losing educational opportunities due to the difficulty of transportation. As there is only a primary school, there are more and more children who are unable to continue attending middle and high school, and who end up in the workplace.
The villages in the upper part of Sai Tin are inhabited by the Khami ethnic group and a minority of the Mro ethnic group. Residents say that due to the difficulty of road access, the health sector is lagging behind other areas.
There are about 100,000 ethnic Khami people living in Arakan State townships including Sittwe, Mrauk-U, Kyauktaw, Ponnagyun, Rathedaung, Pauktaw, Minbya and Ann, where they primarily engage in agriculture.
Yaypu Village used to have more than 40 houses and was a village inhabited by the Khami people. U Kyaw Tha Aung, a resident of Yaypu Village, said that more than 30 families have since moved to different places due to the difficulty of transportation and their children's education.
"People in the village moved to other places due to difficulties in food, transportation, education and health. Those who have money for their children's education moved to places near the urban areas. Now there are only a few people in the village," he added.
There are more than 1,400 people from 500 households in Aurama Village. Every year when the rainy season comes, more than 10 households in the village move elsewhere.
As family migration has increased, there are concerns that ethnic groups will be divided and disappear.
The residents of Aurama Village-tract want the current administration to make transportation to and from the villages more convenient.
"It will be OK if the health department sets up a rural healthcare centre in the village. As there is no rural health centre, people here have to sacrifice their lives for medicine," said Ko Kyar Hla Aung, a local man from Chaungmyay Village.
"The villages are very behind in development and the residents are also facing health problems due to the difficulty of transportation. The government should build roads to facilitate transportation," said Ko Aung Chay, a member of the Western Door Rescue Association.
DMG contacted the junta-appointed Arakan State minister for natural resources, U Than Tun, to discuss the development of Arakan State's remotest areas, but he did not comment.
U Khaing Maung Win, who dares not even dream of going to a clinic in the town, said: "I just want a [local] clinic. Otherwise, [people needing healthcare] will not be able to reach the city and there will be more deaths on the road."