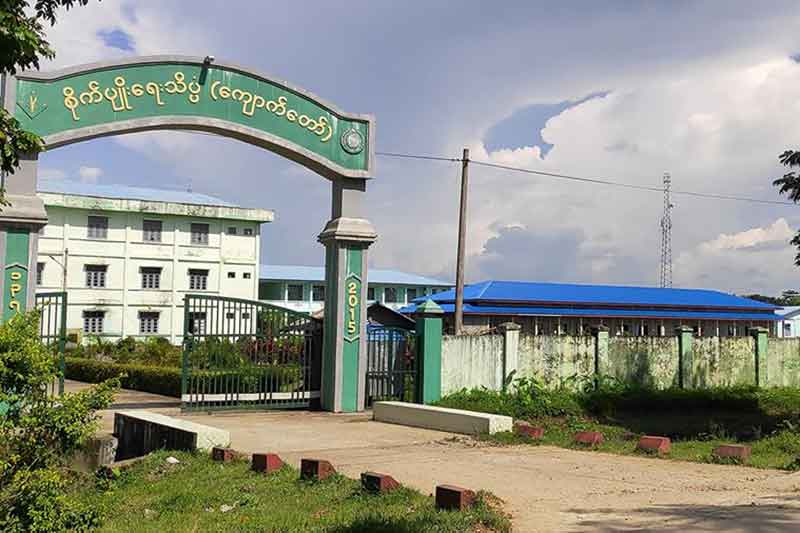 Kyaw Thu Htay | DMG
January 1, Sittwe

The Agricultural Science Institute in Kyauktaw town has temporarily closed after bullets riddled the school compound earlier this week, Daw Khin Lei Lwin, the institute's principal, told DMG.

Small arms fire erupted on the evening of December 30 in Kyauktaw town, and the roof of the school, staff hall and restrooms were damaged by gunfire. The institute has been shuttered since the incident.

"Shooting happened inside our school compound and vegetable garden so it is a bit dangerous for students," Daw Khin Lei Lwin said. "The buildings are damaged but nobody was injured. The students' parents are worried about it. We haven't closed the school officially. Currently, we are checking the situation."

The institute has 408 students and most of them had returned home for their December break at the time of the incident, but about 100 students were still inside the compound during the shooting.

"I would like to ask the armed groups not to stage attacks near the school. I hope the authorities will take care of this," Daw Khin Lei Lwin said.

The shooting in Kyauktaw town also damaged some other buildings and injured two civilians. A state MP for Kyauktaw and locals said that the Tatmadaw launched the attack, but the military denied those reports and said the Arakan Army (AA) was responsible for the gunfire. The AA has blamed the Tatmadaw.
Related Post : Two women injured amid shooting in Kyauktaw town